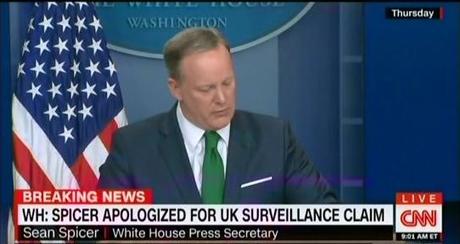 Last Thursday, White House Press Secretary tried again to defend Trump's outrageous claim that President Obama had wiretapped Trump Tower. He told the press:


"Three intelligence sources have informed Fox News that President Obama went outside the chain of command . . .didn't use the NSA, he didn't use the CIA, he didn't use the FBI, and he didn't use the Department of Justice. He used GCHQ. What is that? It's the initials for the British Intelligence Spying Agency."

That was just another lie. And it was even a worse lie than Trump's original lie -- because it accused the British government, America's closest ally, of spying on the president-elect of the United States. It was a lie that could easily have damaged relations between the United States and Great Britain -- and the British were quick to deny it had ever happened.
The Trump administration is not viewed very favorably in Great Britain anyway. A large poll showed that a majority of the British public did not want Trump to visit their country, and the British parliament voted to ask the prime minister to rescind her invitation for Trump to visit. The Trump administration couldn't afford to further damage relations with Great Britain. That means an apology was in order.
But Trump, because of his serious narcissistic disorder, is incapable of apologizing for anything -- not for an outrageous lie nor an egregious mistake. He is quick to demand apologies from others, but absolutely refuses to apologize for his own errors.
A real president would have immediately picked up the phone and called the British prime minister, and issued a personal apology. That would have been the appropriate and ethical thing to do. But our narcissist-in-chief could not bring himself to do that -- not even to smooth over relations with our closest ally.
So, he sent two of his White House flunkies to do what he would not do -- apologize. General McMaster apologized to Sir Mark Lyall Grant, the prime minister's national security advisor. Sean Spicer apologized to Sir Kim Darroch, Britain's ambassador to the United States. The two flunkies also promised British officials that it would not happen again. Considering Trump's loose mouth, complete disregard for truth, and his chaotic administration, I doubt that's a promise that can be kept.
This is probably as close to an apology we'll ever hear from our liar-in-chief. Enjoy it, because it is unlikely to ever happen again.
NOTE -- It looks like I may have spoken too soon. Spicer is now saying he just "explained" the situation to Ambassador Darroch, but did not apologize -- and Trump is saying they did nothing to apologize for. He's wrong, of course.
I'm so ashamed that Trump is in the White House. To my British friends -- Your country is definitely owed an apology, but don't hold your breath.