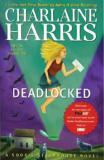 One of our affiliates, True-Blood.net, recently received an advanced review copy of Deadlocked! They teased us on Twitter about it! GAH!
We thought you might find what they said interesting…but we should warn you…these tweets will drive you crazy as well!
Waiting definitely sucks! Is it May yet?
WARNING: If you don't want to know – don't read below!
Here are the screencaps of True-Blood.net's tweets, which you can find here!


She mentioned, she read it in 9 hours…looks like it's a fast read!

Who is Sookie talking about in this quote? Eric? Please I hope not. This doesn't sound good.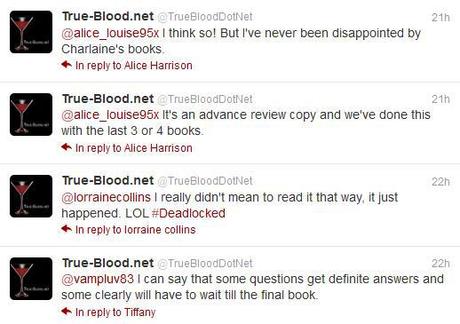 Which questions have are answered, and which ones will we have to wait until the final book for? ARGH! This waiting is killing me!
Hehe…I've saved the best for last…our very own lilabitbif, who tweeted to tell them how much she appreciates the way they were teasing us! Hahahaha…

Is this Eric? Bill? It better be Eric…or I'm going to be one upset Eric & Sookie lover!
What do you think? Share your thoughts below!