Our True Blood red carpet premiere celebration carries on, this time in the video format

We've all seen the pictures of the True Blood cast, including our favorites Alexander Skarsgård and Anna Paquin, speaking to reporters as they made their way along the red carpet.
Now we have some of the video from it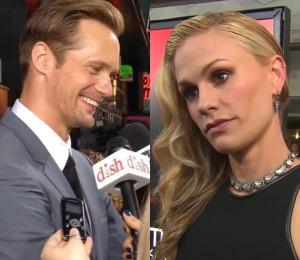 And with video… comes spoilers… so watch at at your own discression
The folks over at with the Associated Press not only scored interviews Anna, Alex, Stephen, and Sam, they interspersed a few new clips from the season into their footage.
Anna shares with KJ Matthews on CNN that "bombshells will be dropped" this year. Check out the video below
From Mark Malkin of eNews (grabbed by skarsjoy) we learn more of Alex's vacation plans… and getting a "little bit naked" this season. But the news that might spark the most speculation is the news from Joe Maganiello. You were warned.
What did you think? Sound off below!
As more video is found we will keep updating the post.