Hey Eric & Sookie Lovers!

The True Blood Season 3 DVD will be released on Monday, May 23rd in most places! There are some DVD reviews we'd like to share with you!

This one is from SFX: Let's Talk Sci-Fi!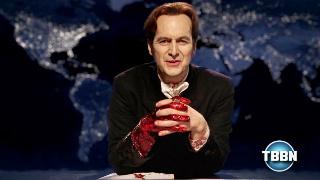 Remember this? Russell, takes on an archor person job after killing his predecessor during a live news broadcast! "Back to you, Tiffany!"
Release Date: 23 May
2010 * 18 * 645 minutes * £39.99 (DVD)/£49.99 (Blu-ray)
Distributor: HBO Home Entertainment
Creator: Alan Ball
Cast: Anna Paquin, Stephen Moyer, Sam Trammell, Alexander Skarsgård, Ryan Kwanten, Marshall Allman, Rutina Wesley

The show that would've given Mary Whitehouse the screaming collywobbles sashays into its third season without even pausing to take a breath, picking up right where it left off, with Sookie accepting Bill's proposal but then finding herself mysteriously bereft of her vampire suitor. The fact that True Blood spends a good chunk of this year focusing on its two leads living separate lives (he's been kidnapped; she's looking for him) actually does it a few favours, as it frees up both characters to do lots of outrageous things with other people.

This year brings us everything from bone-breaking sex to spines being ripped out on live TV to warped drug hallucinations. Business as usual, then. The one problem with season three, however, is that there doesn't seem to be a clear narrative arc, merely a bunch of guest stars wandering in and shaking things up a little without a Grand Plan for the regulars to rally against.

This small but vital oversight means that True Blood has now become the world's most gruesome soap opera – but that's not to say it isn't fun. Denis O'Hare's scheming vampire Russell Edgington is the sickest creation since Buffy's Drusilla; a pack of werewolves add much-needed bite (er, sorry); Eric and Pam prove they should have a show of their own; and the sex, language, wisecracks and relationships are as entertaining as ever. Feel bad for Rutina Wesley's Tara, however, who has nothing to do this year except wail and cry, and Sam Merlotte's new-found family grate even more than they're supposed to.

Soap opera or not, though, the shocks are what make True Blood the most-talked-about show on TV today, and because they're still coming thick, fast and bloody, it's difficult to complain. Long may Bon Temps gross us out.

Extras:

Six commentaries from a multitude of cast and crew. Minisodes, episode post-mortems and an "Anatomy Of A Scene" (from episode two) add further value, while the inclusion of Snoop Dogg's "Oh Sookie" video shows this isn't a box set that's taking itself seriously. The Blu-ray adds a few more bits'n'bobs, although most of them are rather superfluous preview and recap kinds of thing. Jayne Nelson
Source: TRUE BLOOD SEASON THREE DVD Review – SFX