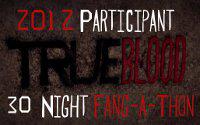 Tonight's (Day 12) fangalicious Fang-A-Thon 2012 post is brought to you by some very interesting and surprising news that has just been released!
HBO has named Alan Ball's successor for season 6 – IF (that's a pretty big if, IMO) it's renewed for a sixth season. The bad news? It's not me. Yeah, I know that is somewhat disappointing for you. Haha. The good news? (Depending on how you look at it.) Is the fact it's none other than Mark Hudis!
This is what Deadline.com is reporting.
EXCLUSIVE: True Blood co-executive producer Mark Hudis will take the reins of the hit HBO vampire drama if it gets renewed for a sixth season. With True Blood creator/executive producer Alan Ball stepping down as showrunner at the end of the upcoming fifth season, Hudis would be upped to executive producer/showrunner for Season 6 as part of an overall deal he has signed with HBO. The two-year pact also includes a development component.

Hudis has been on True Blood for the past two seasons — last year's Season 4 and Season 5, which premieres June 10. While his and Ball's paths previously crossed on the CBS comedy series Cybill, where they co-wrote several episodes during the 1997-98 season, the two first met two decades ago working at trade publication AdWeek. UTA-repped Hudis' series credits also include Fox's That '70s Show and Showtime's Nurse Jackie. While leaving True Blood full-time after Season 5, Ball is staying in business with HBO through his overall deal there. He will continue to be involved in True Blood and also executive produces new series Banshee for HBO sibling Cinemax.
Speculation is already going around that HBO is preparing themselves in case True Blood isn't renewed. They won't lose anything if that happens. Will this be a good thing for us? I'm not sure. Depending on how this season ends, it could mean things are still up in the air for our couple, just like they were in Deadlocked.
I guess only time will tell. Who knows? I just hope that if it's renewed…Mark Hudis won't disappoint us like Alan Ball did.
One other thing which came to mind when I read it was this…why is HBO handing over the reigns to someone who has only been on the show since the beginning of season 4? Why not one of the other producers? Someone else who have been there for a longer period of time?
What are your thoughts? Share 'em below!