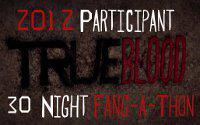 In tonight's (Day 5) installment of my fangalicious Fang-A-Thon 2012 posts…I wanted to let those of you know (who don't follow True Blood on Facebook), that True Blood is featuring polls to choose your favorite moments from past seasons!
The first poll they had was to choose your favorite True Blood Moment of Lust!
These were the choices;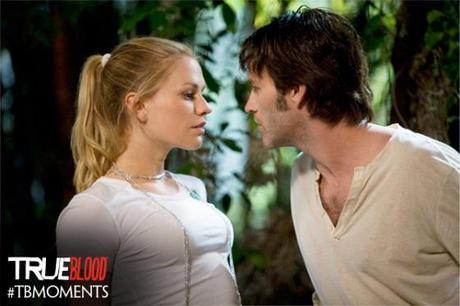 When Sookie met Bill.
PUKE. I wouldn't call this a moment of LUST, but whatever…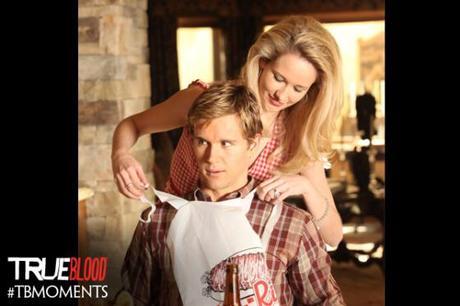 Sarah Newlin tempts Jason
This was somewhat tempting…in a creepy sort of way.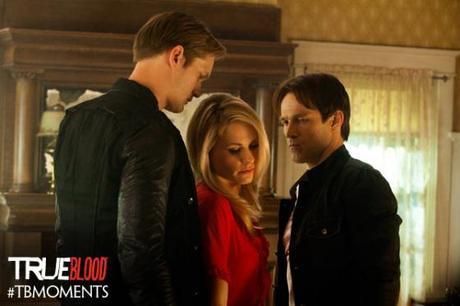 Sookie's threesome dream
This dream was awesome when it was two, but as soon as the third person showed up…it went downhill fast. This was the most awkwardly uncomfortable threesome I've ever seen, not something I found lustful. Ever heard of three's a crowd?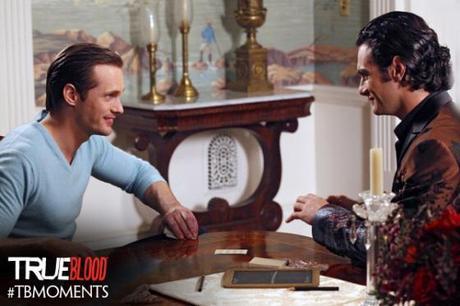 Eric seduces Talbot
Yes, this was kind of hot…in a male-on-male kind of way. (If that's your kind of thing.) I really liked Talbot as a character, and seeing two hot naked men…YUM.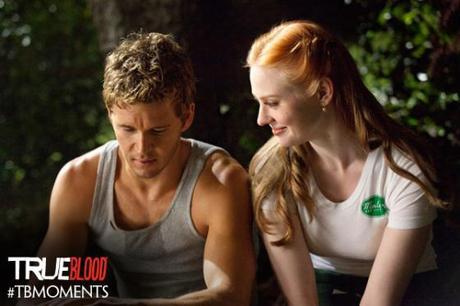 Jason fights his feelings for Jessica
Jason's feelings for Jessica were brought on by Jessica's blood when she saved him. There had been no inkling of feelings before this, so this was somewhat surprising. It was uncomfortable too, because I felt bad for Hoyt.
Last, but definitely not least…and not surprisingly to us…Eric and Sookie won with this lustful moment below!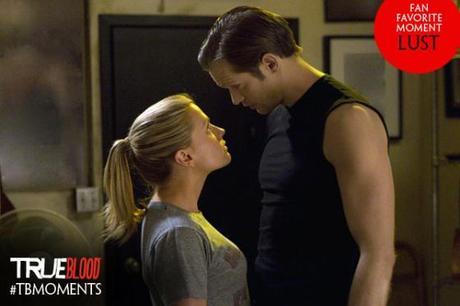 Eric's first Sookie fantasy
Yeah, they have the picture wrong. Instead of showing a picture of Eric's first Sookie fantasy, they showed a pic from their first real kiss! But, whatever…I'm pleased to see the fans feel the same way as us!  I hope True Blood is paying attention to who all the fans are voting for and is wanting together as a couple! If not, they are really, really stupid.
As a reward, they shared this special edition sticker on GetGlue! When you watched True Blood and checked into the show, this is what you would receive on GetGlue!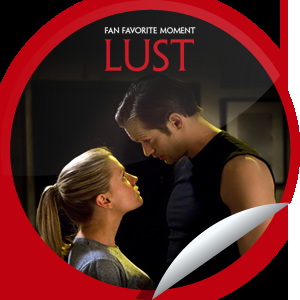 GetGlue's Thursday's check-in sticker
If you're interested in voting for True Blood's Favorite Moment this week…they are featuring the most memorable death! The two we're hoping will win are when "Talbot becomes a victim of Eric's revenge" and "Godric's death". Cast your vote here! (Please note: you might have to be logged into Facebook to cast your vote.)
That's it for this memorable Fang-A-Thon post! Check-in tomorrow – when I'll be switching back to the books again!
Thoughts? Share 'em below!