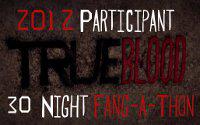 For today's (Day 27) fangalicious Fang-A-Thon post, I'm going to share with you some MORE True Blood Season 5 spoilers! I bet you're getting sick and tired of them by now…but during this time of year, with True Blood only 4 days away – this is "Christmas in June" when it comes to spoilers. This is just one of our little "gifts".
E! Online shared an interesting spoiler which is very close to our Eric & Sookie lovin' hearts…the fate of Sookie and the men in her life!
WARNING: If you don't want to know – don't read below!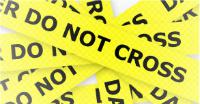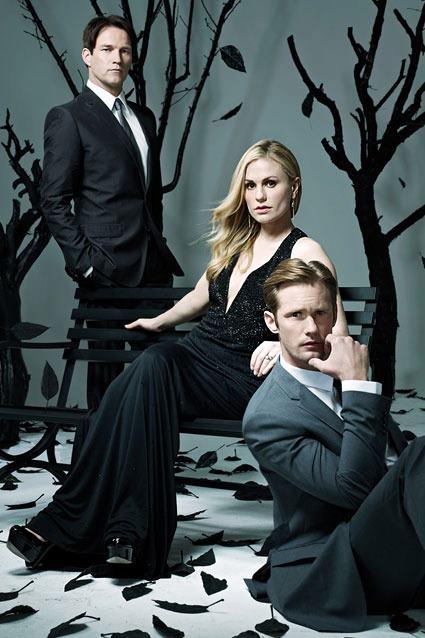 This is what they revealed in E! Online's Spoiler Chat!
It's almost time, fangbangers! True Blood's new season finally premieres this Sunday!

But before you settle in to catch up with the folks in Bon Temps, you should know we bugged the entire cast about the burning questions on our minds since season four. Who dug up Russell Edgington? What's the status of the Eric-Sookie-Bill love triangle? If you're curious to hear what Anna Paquin, Alexander Skarsgård and the rest said, then sink your teeth into some True Blood scoop:

Before we get into the love triangle situation, let's eliminate a couple of people from the Russell Edgington (Denis O'Hare) mystery.

"It definitely wasn't Eric," Skarsgård tells us. "Eric would never do that." OK, one down. Only about 18 suspects to go, plus countless other new characters who might have done it. What about the werewolves?

"It wasn't Alcide. I'll tell you that much," Joe Manganiello insists. OK, two down. Back to the vamps.

"I can't tell you who dug up Russell Edgington because it's a very major plot point," Stephen Moyer laughs. Hmmm, interesting response, Vampire Bill. We'll let that vague answer slide…for now. Moving on to that Bill-Sookie-Eric love brouhaha, Moyer reveals how the situation is going to play out in season five.

"I think he's got other things on his mind. There's just not time to worry about that relationship," he tells us. "When we left Bill and Eric last time, Sookie had just told them she was going in a different direction for a while. And then something major happens to them and they are completely caught up with dealing with that."

Meanwhile, Manganiello says that Alcide is not exactly still smitten with the lovely Sookie. "You're going to see him pick up where he left off last season, which was pissed, and you're really going to see his transformation this season into the big bad wolf," he teases. "This is the season I've been waiting for since I've been on the show."
Okay…so it's not Eric or Alcide who released Russell. Bill is sounding a little bit suspicious though. But I don't think he would let him out, when Russell knew he helped Eric bury him to begin with. No, my money is either on Steve Newlin or somebody else. Someone who we don't know about yet. One of his werewolf followers perhaps?
From the sounds of it, Sooicide might be short-lived too. Whew, what a relief! It's not very surprising, since Sookie has that big, fat ole secret involving Debbie's death hanging between them.  I wonder how and when the big, bad wolf finds out? I'm pretty sure it won't be from Sookie herself. It will be some time later in the season too.
We already know about the bad bromance between Eric and Bill, and how they'll be involved with The Authority. I'm beginning to look forward to this, because you KNOW there are going to be a lot of insults thrown each other's way, and those are always good for a few laughs…especially if Eric gets the last insult in.
What are your thoughts? Share 'em below!