Hey Eric & Sookie Lovers!
We have a fanfic writing contest to tell you about!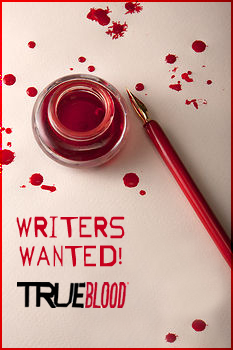 True Blood on Twitter is a role player site for True Blood role players on Twitter. They would like to invite you to participate in their first writing contest!
If you've ever imagined that you could write a scene for some of your favorite True Blood™ characters, this is your opportunity to do just that.
They have chosen three "sneak peek" video previews for the upcoming Season 4 as inspiration for you to create the story of what happened next.  Choose one as the starting point for your story and let your imagination take over.
The panel of judges will choose first, second and third place winners from the submissions and True Blood on Twitter group members will act the winning story out, live on Twitter, as a special event leading up to Sunday, June 26 and the first episode of Season 4 of True Blood™.
Second and third place entries will be performed at a later date. First place prize is a copy of True Blood: The Complete Third Season on DVD. Runner up prizes will also be awarded for the second and third place winners.
Deadline for submissions is Midnight central time, Wednesday, June 22nd, 2011.
To read the rules, visit the links to the promos and any other pertinent details – please click here!
Good luck!