We'd like to inform you, True Blood on Twitter is holding their second writing contest – in which they will act out the winning story live on Twitter!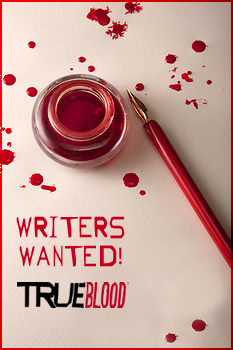 Here are all the pertinent details…
The holidays are approaching and provide the perfect setting for your story to take place.  Here is some background to help get you started:
King Bill has decided to hold a charity holiday party to foster goodwill between Humans and Vampires.  In keeping with Bill and Eric working as a team, the King has asked Eric to co-host the party with him and  has also pulled Sookie in to be the hostess to provide the Human touch, thereby continuing the "triangle" that was present all through Season 4
Our premise will be Eric's recent memory loss has stirred up his real life memories coupled with Sookie's rejection causing him to want to go "home" in solitude for the holidays.  Sookie is going to come up with incorporating the Norse theme of Jul (Yule) into the party in order to keep Eric there to help them.
For information about the Norse Jul celebration:  http://www.wizardrealm.com/norse/holidays.html
Create your True Blood holiday story using the background setup we have provided and the theme of Jul. It can take place just before the party starts, during the event or immediately after. This is a celebration of new beginnings and endings, what might that mean in the world of True Blood? Could something happen that increases tension between Sookie, Bill and Eric? Does something or someone go wrong at the party? Is our Vampire/Faerie triangle mysteriously transported to days of old and a real Viking Jul celebration? Does everyone live happily ever after? Wait, this is Bon Temps we are talking about, that would never happen. Only you know what you want to unfold and this is your chance to tell us all.
(Performance disclaimer: Characters other than the three mentioned in our setup can be used but are subject to availability for actual Twitter performance).
Our panel of judges will choose first, second and third place winners from the submissions and True Blood on Twitter group members will act out the winning story, live on Twitter, as a special holiday event.
First place prize is a signed Alexander Skarsgard print by Kristin Bauer van Straten.  Runner up prizes will also be awarded for second and third place winners.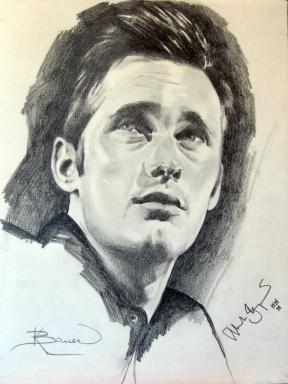 Contest Rules
The contest will open on Oct 23, 2011 and runs through Dec 1, 2011
All entries must be received by December 1, 2011  11:59 pm CST
All entries must be a minimum of 2500 words a maximum of 8,000
All entries must be in a Microsoft Word compatible document (Gdocs would be preferable)
No more than 2 entries per writer EXCLUDING collaborations.
Collaborations are allowed and encouraged, no more than 2 per author
All entries must be NEW stories
All entries must include a disclaimer for True Blood and HBO
Members of the True Blood on Twitter Group are excluded from participation
All entrants must be at least 18 years of age
All entries must be beta'd.*  For those of you who need a beta see the info below.
Submitted stories must incorporate the holiday party theme and can take place immediately before, during or after the party.
Entries will be judged on the following (click below for more info):
 Originality and development of the plot
 Storyline flow (clear,organized)
 Character (voice and development)
 Grammar (word usage, structure, development)
 Tone-Style (did it flow)
All contest submissions or any questions you may have should be sent to: TBonTContest@gmail.com
All entries must include the Header below:
True Blood on Twitter Holiday Writing Contest
Title:
Penname:
Beta:
Characters:
Disclaimer:
*Beta -Proofreader who is an experienced writer.
If you need to request one, tweet @musingsbychar with your request.
You can find out who the judges are and any other important information here!
Good luck to all who enter!