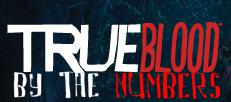 True Blood's ratings for this past Sunday were a respectable 5.261 million viewers or #8 overall for the week ending on July 24th – according to TV By The Numbers!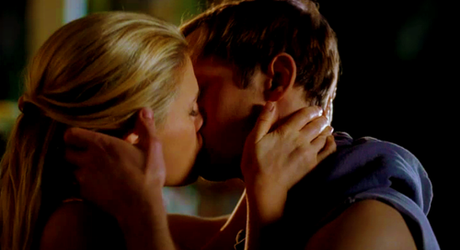 In other related news…the TV Fanatic had this to say about Eric & Sookie and their kiss!
…this is all just the preamble before getting to the heart of the episode. Or should I say the lips: ERIC AND SOOKIE MADE OUT! And it wasn't some quick peck, or some drunken regret.

It was an all-out, saliva-heavy, I-can't-bear-the-thought-of-you-leaving-me-so-come-here-and-taste-what-you've-been-craving-right-this-very-moment passionate embrace. Celebrate, Team Eric members!
And over at TV Guide, they had this to say about Eric & Sookie's kiss!
And then he kissed her!

This is odd. Godric is back, telling Eric that he's evil and needs to kill Sookie. Since Eric's vampire was the nicest, sparkliest vampire ever, we know it's just a dream. It gives Sookie the chance to cuddle with him again. "Am I evil?" Eric asks. "You're not Gandhi," Sookie snarks.
In the aftermath, a wounded Sookie runs straight into Eric's arms. They embrace, and then…they kiss! (The world stops spinning; Twitter explodes. I suspect you'll have a thing or two to say about this development in the comments, so I'll restrict my comments to: Fine.)
Haha! It seems the world is buzzing about Eric & Sookie and their kiss – but most are mistaken. It's not their first real kiss…remember, they shared one is Season 3: Episode 10? It was passionate too!

What are your thoughts on the ratings and/or the reviews we quoted? Share them below!