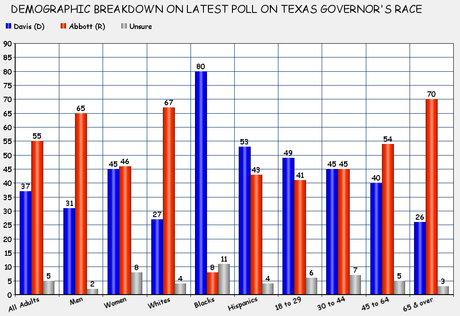 The chart above is from a poll that is nearly a month old. It is the NY Times / CBS News / YouGov Poll that was taken between August 18th and September 2nd of 4,159 Texas adults, and has a 2% margin of error. I should have brought it to you earlier, but I just flat missed it. There has been a debate between Davis and Abbott since the survey was taken (and another more widely shown debate will take place in a few days), so these numbers could have changed.
I find a couple of aspects of this survey very troubling. First is that it shows Abbott getting 43% of the Hispanic vote. That's about 15 points higher than Romney got in 2012 (and would even be slightly higher than Bush got). I find it hard to believe, but if it is true that Democrats have only a 10 point margin among Hispanics then the Democrats are in trouble. They need to get a substantial margin among Hispanics (and Blacks) to offset the huge margin Republicans hold among Whites.
But even more troubling is the women's vote. The survey has women splitting their vote between the two candidates (with the 1 point margin for Abbott being within the margin of error). Are their enough fundamentalist women in Texas (who are happy with being second-class citizens) to give Abbott half of the women's vote? If so, then Davis is in real trouble. She needs to get a substantial majority of the women's vote to even stand a chance.
I would like to see another poll taken after the statewide televised debate to be held in a few days. These numbers, especially for women and Hispanics, must change -- or the Democrats in Texas are going to have a tough night on November 4th.