From Steamworks Brewing in Burnaby BC comes their latest release the "Tropical Tart Ale". The beer pours a cloudy orange colour with a white head. The aroma consists of passion fruit, pomegranate and an overall fruit juice base with sweetness and a hint of tartness. The flavour is of tartness up front but not overbearing, passion fruit, pomegranate and an overall tropical note, mineral notes but not overly sweet. The alcohol content comes in at 4.9% with an IBU of 15. This is going to be a very popular summer beer and I hope it hangs out all summer!
Commercial Description: Our new tropical tart ale is a true delight for the senses, pouring a beautiful deep hued gold, and leading with intense tropical fruit aromas. Superfruit Flavours of passionfruit and pomegranate are balanced with an unmistakable thirst quenching tartness; whisking you away to a care-free island paradise. Best enjoyed near a body of water.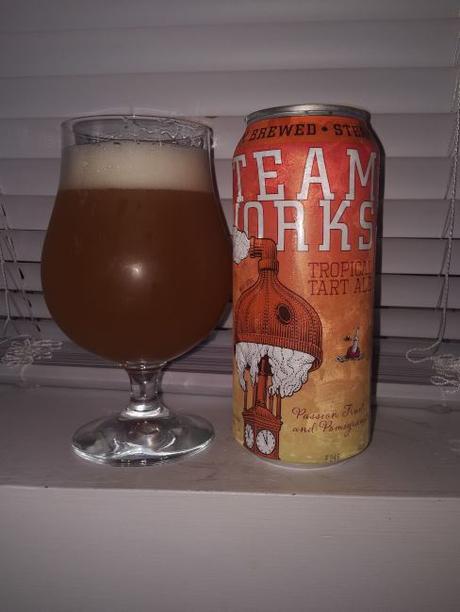 About Mike
I am an avid outdoors man and hobby photographer who loves to spend as much time as possible exploring the beautiful backcountry of the Province of British Columbia and everywhere else! When not exploring nature though I am exploring Craft and Micro Brew beer locally and from around the world. If you love beer like I do please come on a journey for your taste buds. Who knows you just might find your next favorite beer!
This entry was posted in Sour Ale and tagged bc, Burnaby, canada, craft beer, mineral, passion fruit, pomegranate, sour ale, steamworks brewing, tart, tartness, tropical, tropical fruit, tropical fruits, tropical tart ale. Bookmark the permalink.