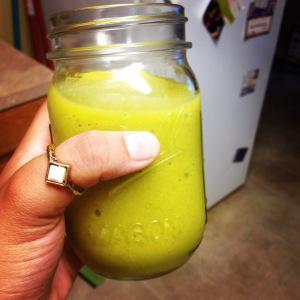 After sharing this picture on Instagram, I was asked if I had the recipe on my blog (which I hadn't thought of sharing at the time). All I did was throw some ingredients together that I thought would taste good and voila! No secret recipe, just a little experimentation! But here you go… By the way, this was definitely the best smoothie I've made thus far. 
Taylor's Tropical Paradise Smoothie*:
handful of spinach
about 4-5 chunks of frozen pineapple
about 4-5 chunks of frozen strawberry slices
one whole mango 
about 1 tbsp. honey
about 2/3 c green alkaline water
flax seeds**
a few ice cubes
blend until smooth
*Because I just threw all of these ingredients together, I don't have exact measurements. Adjust the ingredients to your liking. **Flax seeds are easier to digest when consumed ground instead of whole. When blended with the rest of ingredients, they grind up well but for better results, use already ground flax seeds.
Smoothies are a perfect way to incorporate more greens in your diet. I personally prefer spinach but you can use any leafy green you'd like. Smoothies are also a great way to incorporate a quick breakfast for people who normally skip this meal or don't have lots of time to eat in the mornings. Just prepare all of the ingredients the night before, throw it in the blender in the morning and off you go!
Hope you guys enjoyed!