I will be putting box braids in my hair, so to prep my hair for the style I decided to deep condition using my own homemade deep conditioner. I used an egg, honey, an avocado, a banana, mayo, olive oil and coconut oil. I blended all the ingredients and added the mixture to freshly washed hair. I wrapped a plastic bag around my hair (didn't have a shower cap) and let it sit for 30 minutes before washing it out. After I washed it out, I used a Shea Moisture conditioner right after it. After I washed out the conditioner, I sectioned my hair off, added a dime sized squirt of the same Shea Moisture conditioner as well as a Shea Moisture leave-in conditioner to each section, then braided it. I let my braids air dry.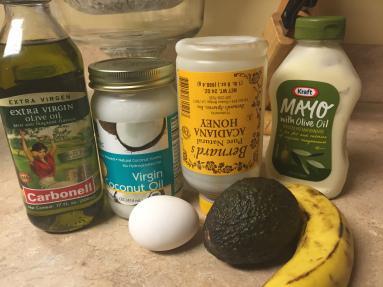 Eggs: Eggs are a good source of protein. They make the hair stronger and help prevent breakage.
Olive oil: Olive oil is rich in vitamins A and E. It can help to seal in moisture and help with frizz.
Coconut oil: Coconut oil is rich in vitamins E and K and iron. It helps to seal in moisture. It also contains antibacterial and anti fungal properties.
Avocado: Avocados are rich in vitamins E, A, K, C and B6; potassium; protein; fiber; and copper. It acts as a moisturizer for dry hair.
Banana: Bananas contain potassium, iron and vitamins B6 and B12. Bananas help hydrate hair, control frizz and help soothe itchy scalps.
Honey: Honey is a natural humectant and helps seal in moisture. It also has antibacterial properties. It is also a natural antioxidant and emollient.
Mayo: Mayo is also a good source of protein because it contains egg. It helps add shine to hair.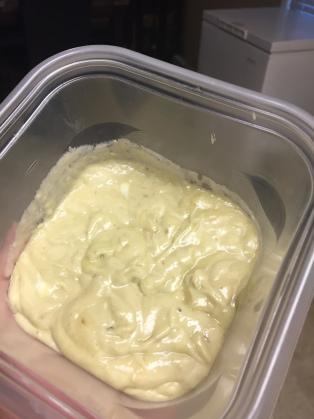 This is what looked like after I blend everything.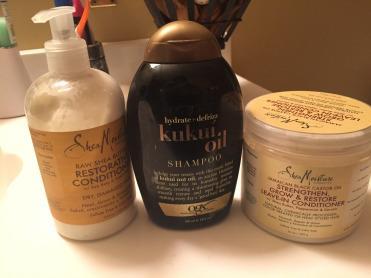 I don't recommend using this shampoo because instead of hydrating my hair, it dried it out, but it was all I had.
All in all, the conditioner worked great. After I washed it out of my hair, my curls were shiny, bouncy and defined.