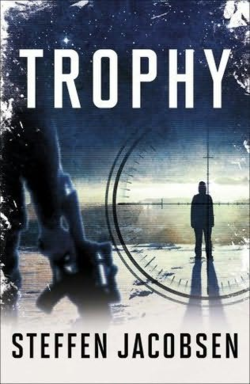 All life has a price. So says the cover of the edition of this Danish bestseller that I was kindly sent by the publisher. And indeed, if you look carefully at the cover image, you will find a large clue to what this powerful, disturbing novel is all about. An arm holding a gun -- gunsights centred on the figure of a man. So I won't be giving anything away if I tell you that the novel begins with a manhunt ending in a violent and shocking death. The first chapter may leave you stunned and puzzled, but the second fills in some of the facts. Private investigator Michael Sander receives a call from Elizabeth Kaspersen, a wealthy young woman whose industrialist father has recently died. Ostensibly she wants him to investigate the theft of some valuable rhino horns, but it soon transpires that she has a much weightier job in mind. She has found a DVD in her father's safe, and on it is a short film showing a group of armed men shooting a young man on a mountain. They are singing triumphantly as they walk towards him.
'You're here, Michael', she then said, 'you're here because I think -- no, because I know, that my father killed a man. For fun. For sport. On some sick, depraved manhunt. That's why you're here'.
Despite the apparently great difficulty of finding out the identity of either the victim or the killers, Michael agrees to take on the job. Meanwhile, another investigation, apparently unrelated, is also getting under way. Police Superintendent Lene Jensen is called to investigate a suspicious death -- a young ex-soldier has hanged himself on the morning after his wedding. A lot of money has come his way recently, and lying on the grass next to his wife's brand new Alfa Romeo is a CD, which proves to have stirring music by Queen on it. The man appears to have been driven to suicide, but why and how?
Eventually, Michael and Lene find their paths crossing as the two investigations prove to lead to one chilling fact, the existence of a group of ex-army men who are willing to hire themselves out for large sums of money to perpetrate appalling crimes, and Michael and Lene are stretched to their limits in following their tracks into the deep north of Norway.
Good solid Scandinavian noir, then. But, like the best of that genre (The Girl with the Dragon Tattoo  springs to mind), there are some serious issues being raised here. The dangerous loss of moral integrity of the very rich -- jaded to the point of needing more and more excitement in their search for pleasure -- is one such, but above all the novel highlights the disastrous after-effects on young soldiers of a long period of service in terrible war zones. 
I'm certainly not interested in reading about violence for its own sake, far from it, but I am interested in morality and human psychology, both of which are important themes here. Overall this is an interesting and thoughful novel, and the characters -- Michael and Lene in particular -- are well-drawn and never cliched. A lesser novelist would probably have plunged them into a torrid love affair, but that doesn't happen here -- just a slowly developing relationship of respect and liking. 
The novel is well translated by Charlotte Barslund, and makes an absorbing read. Thanks, Quercus, for sending me a copy.