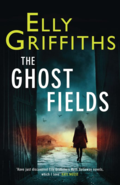 I've just been reviewing Elly Griffiths' latest Ruth Galloway novel -- I really loved it. But you'll have to wait till next month to read the review, as it's destined for our in-between catch-up issue, Shiny Extra. Meanwhile, here's a taster of the plot:

The Ghost Fields starts in a summer heatwave. As the novel begins, a construction crew has just unearthed a macabre find – a WW2 plane, buried in the middle of a field, with the body of the pilot still inside. The field has been recently sold to a developer by the Blackstock family, and after Ruth has sent the bones off for DNA testing, the dead man is identified as Fred Blackstock, who had been reported as killed at sea during the war. The investigation brings both Ruth and Nelson and his team into close contact with the remaining Blackstocks, who live in a once grand, now crumbling home – dotty grandfather Old George, his rather feeble son Young George, whose wife Sally has plans to turn Blackstock Hall into a B&B, young Chaz, a pig farmer, and beautiful Cassie, an actress. 
When I tell you that more bones soon turn up, fresh ones this time, most of the body having been eaten by Chaz's pigs, you may be intrigued. Great stuff.