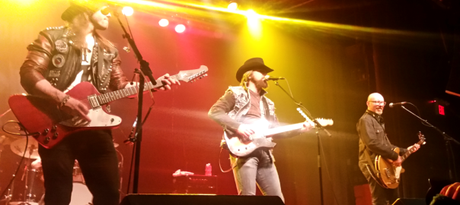 A funny thing happened on the way to the bike launch...
On a night designed to be an awesome and interesting launch of new bikes from Triumph, a country music show broke out - and a good time was had by all.
Okay, so maybe it was planned. Maybe Clayton and Jason and Chris have been working with Triumph Motorcycles for years. Either way, it was a whole lot of fun.
The night began with a good crowd gathered at The Phoenix Concert Theatre in Toronto. Propped up throughout the venue were no fewer than 6 bikes, looking shiny and impressive, and pretty much begging us all to hop on and go for a cruise. And that makes sense, because Triumph was celebrating the launch of their 2017 Bonneville Bobber on the Brutal Beauty Tour.
We saw riders walking around with helmets in hand, we saw enthusiasts check tires and tanks and gauges and grips. And we saw a whole lot of people climbing on - just to see how it felt.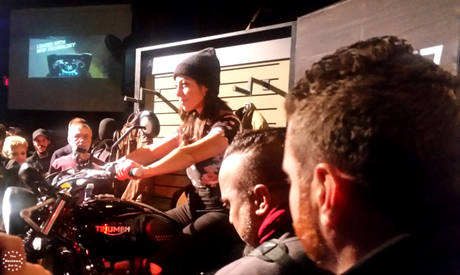 And then we saw The Road Hammers!
Jason McCoy, Clayton Bellamy, and Chris Byrne have earned their reputation as modern legends in Canadian music - and on a Wednesday night, even with motorcycles in the spotlight, they brought all of the energy and fun that you'd expect from these three country rockers.
The boys played more than a dozen songs on the Phoenix stage, including fan favourites like Eastbound And Down, Mud, Girl On The Billboard, Hillbilly Highway and I'm A Road Hammer - and some great covers that included Mary Jane's Last Dance and Honky Tonk Woman (featuring a special appearance by Kelly Prescott) that were a lot of fun for those of us in the crowd.
We know that there's new music coming from The Road Hammers - and there were whispers that we may see a spring/summer tour from the guys. And if both of those things come, it won't be soon enough for us!