We all enjoy our life in Buenos Aires,  taking Spanish classes, dinning the best meat, dancing tango in Milonga, discovering new street arts.. I could keep counting things to do till tomorrow morning, and they would only be the tip of the iceberg. However, it is also nice to go out of the city, and see the other side of Argentina, in this case, the Glacier Perito Moreno in El Calafate.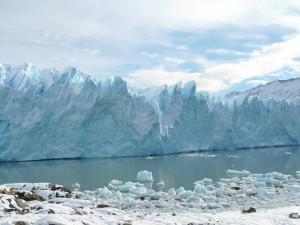 If you're in Patagonia, you have to wander out on a glacier, it is a place where the sky is fusion with the earth, you can't distinguish between when in the horizon is starting the firmament.
This long weekend, I finally went to visit this heaven-ish place that I have been dreamed about for a long long time. Due to it's a popular touristic destination, the cheapest airline LADE was fully booked, therefore I took the flight from Buenos aires to Rio Gallegos through Aerolinea Argentina, and arrived El Calafate by 4 hours bus on the famous Ruta 40 instead.
To really enjoy the glacier and feel it not only see it, you would be recommended to do the mini trekking on Glacier Perito Moreno for 1.5 hours, the color and scale of this huge piece of ice has to be seen to be believed. You will finish the trekking tour with one scotch, well it's probably your only chance to drink a glass of 12 years old Scotch with 400 years old ice. Although it was quite pricey (640 AR$) it was really worth it! If you are braver, try the trekking tour with longer period of time around 3 or more hours.
The glacier is so huge that you feel so small in front of such a big wall of ice! Possibly the most incredible thing I have ever seen! During the trip, I said a lot of 'wow's because so many things are just so amazing this was no exception. This is one of the very few pieces of natural history, that's still around, and it's a must-see for everyone in their lifetime.
TIPS:
-The water from the glacier is drinkable; I tried it twice during the trip.
-No restaurants or any kinds of food services around the Glaciers, bring your own lunch/snacks/energy bar.
-Take a garbage bag with you, since the national park is well respect, all the garbage should go back with you to El Calafate.
-Make sure to be ready to go in the morning, by around 8 o'clock, it's a day trip so you have to take the advantage of time.
-Pages and pages could be written about the views from the different observation points in the National Park, I recommend sitting for a while and just watching it, and enjoy the wonderful moment.