New to little Indiana? Subscribe for free to my RSS feed. Thanks for stopping by!
Rockport, Indiana: Trinity United Methodist Church
church chicken dinners
Trinity United Methodist Church in Rockport, Indiana hosts the Kiwanis pancake breakfast (complete with coffee and sausage) each and every year.
Rockport, Indiana: Pancake Breakfast
It's a beautiful church. On the outside, it's quite majestic perched along a tall sloping hill.
Inside, there's elaborate woodwork, beautiful stained glass, and the dare-I-say heavenly scent of coffee and pancakes in the air.
Step through the double doors on the right and you'll enter a bright, spacious room (gym?). You can't miss the church ladies (and men) helping out in the back of the room, heaping plates with piles of piping hot pancakes and sausage!
Not only that, but Santa and Mrs. Claus are there too!
Santa Pics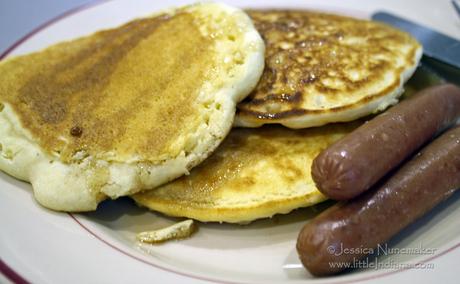 Rockport, Indiana: Trinity United Methodist Pancake Breakfast
This may be the easiest way to get kids to eat without fussing, um, ever! The Big Guy himself is seated here.
The friendly folks of Trinity United Methodist Church will take your photo with Santa and the Mrs. It's really cute. We watched a lot of families take advantage of the chance for a cute pic with minimal cost.
Santa and his wife were just adorable. Unfortunately, Kid #2 screamed his head off. Let's just say that our pic probably isn't the cutest thing you ever saw. Better luck next time.
See more Rockport, Indiana images and other pictures in Indiana on my Flickr photostream.
Trinity United Methodist Church
124 South 5th Street
Rockport, Indiana 47635
812.649.2658

View Larger Map
little Indiana: Where to Stay, Play, and Eat in Small Towns in Indiana. Discovering Indiana's best small towns! Now get little Indiana on your Kindle.
Targeted. Relevant. Affordable! little Indiana advertising.