Tricolor Parfait for the Independence day-15 August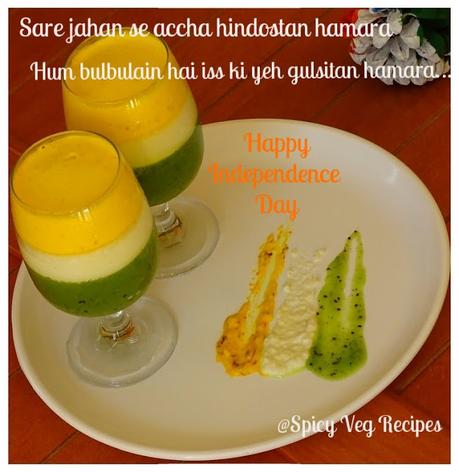 Tricolor Parfait 
Independence day is a great occasion to thank our thousands of our freedom fighters. 
It brings back the childhood memories of flag hoisting in school, various cultural functions and at the end of celebration sweet were distributed to everyone.
I am excited to share this tricolour dessert on our 70th Independence day. 
The recipe is prepared using mainly three ingredients. It has a kiwi jelly for the green, Panna Cotta for the white and a saffron mousse for the saffron.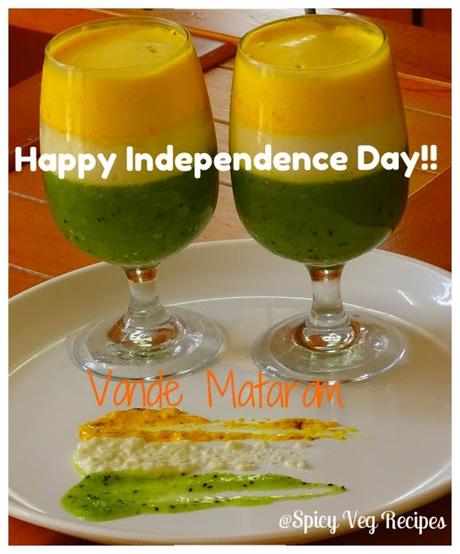 Tricolor Parfait 
Tricolor Parfait Recipe

(step by step with photo)
Prep Time: 60 min    Refrigeration Time: 2-3 hour      Serves: 2-3 
Main Ingredients:
Kiwi, milk, cream, sugar and saffron
Cuisine:
Fusion
Course:
Dessert &Sweet
Level of cooking:
Medium
Taste:
Sweet
Author:
Swati Paathak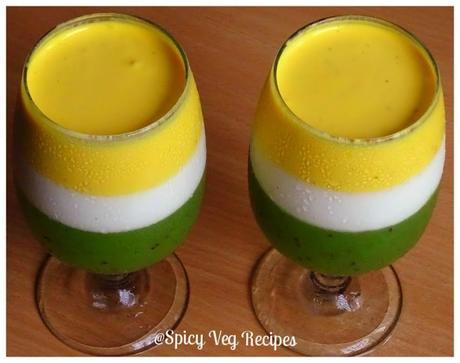 Tricolor Parfait 
Ingredients
For the green layer
1/2 cup Kiwi crush

1.5 cup 

Water 

1/4 cup sugar 

or to taste, optional

1.5 teaspoon agar-agar powder 
For the white layer
1 cup Heavy cream

1 cup full fat milk

Sugar to your taste.

1.5 teaspoon agar-agar powder

1/2 teaspoon vanilla extract(optional)
For the saffron layer
1 cup Heavy whipping cream

4 tablespoon powdered sugar

1 tablespoon saffron

1 tablespoon hot milk
Method:
For the green jelly layer:
Heat the Kiwi crush with 1 cup water and sugar in a pan and bring it boil.

Mix 1 tablespoon agar-agar in 1/4 cup lukewarm water.

Add the agar-agar in Kiwi mixture and mix well.

Cook for another 2-3 minutes.

Remove from heat and mix well.

Whisk the jelly for a few minutes and pour into the glass.  

Pour the jelly into glasses to make the green layer.

Let this sit for about 30 minutes before adding the Panna Cotta layer. 
For the white Panna Cotta 
 layer:
In a saucepan add the milk, cream and sugar bring it to boil over medium heat. 

Boil for 3-4 minutes stirs it occasional.

Dissolve 1 tablespoon agar-agar in 4 tablespoons of lukewarm water with no lumps.

Add agar-agar, and vanilla to milk, boil for about 2 minutes keep string continuously making sure there are no lumps. 

Turn off the heat.

Whisk the milk for a few minutes and pour over the green jelly layer.

Let this sit for about 30 minutes before adding the another layer. 
**As Panna Cotta will cool it will be getting firm like jello, before adding the saffron layer Panna Cotta layer should be firm but not settled all the way completely.
For the Saffron layer (Saffron mousse):
First toss a metal mixing bowl into the freezer, and chill your serving cups in the refrigerator.

Heat up a small pan for a minute then when the pan is hot, turn the stove off. 

Heat the saffron in the pan for 30 seconds.

Quickly remove the saffron from the pan and grind in a mortar and pestle. 

Add it into the warm milk and keep it aside.

Blend the cream in a chilled bowl with a hand mixer until it gets nice and thick, this may take a while. 

The cream should stick to the beater.  

Add saffron and 

Stir well to combine.

Pour the mousse over the Panna Cotta layer 

and

refrigerate for 2-3 hour.