I just can't get enough of these bog hops…I joined another one for Halloween. I have joined Janet Beasley's JLB Creatives Trick or Treat Blog Adventure!!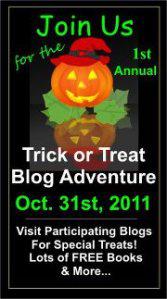 It will run on October 31st…be sure to stop by that night and trick or treat here!! I will have a special blog post that night for all you creepy goblins and ghosts!! I will be hosting a fun giveaway…the top 3 who leave the scariest
TRUE
story will win a free copy of my ebook "Fall Leaves and the Black Dragon" via a Smashwords coupon code!!
So be thinking about what has scared you the most and stop by on Halloween with your treat bag!