Jury to Hear from State Police Today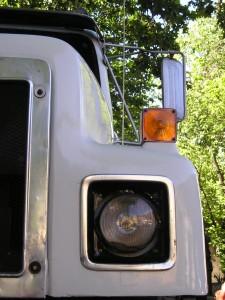 A Bloomington trial resumes this morning in McLean County for a semi-truck driver who is charged with reckless homicide in a March 5, 2013 truck crash that killed a firefighter on Interstate 39 near Hudson and injured four others. Apparently, the firefighters were responding to an initial call for an accident involving two trucks on a night that was icy but visibility was clear despite some blowing snow.
Hudson Fire Chief Daniel Hite described the crash as "tearing metal, ripping metal, a very large boom. Then another large boom. Then it was eerily quiet".  Hite said, he recalled seeing "the largest semi I've ever seen in my life" approaching from the north in the left lane where an ambulance, a fire truck, a state police squad car and a Chevy Tahoe command vehicle were wrapping up their work at the scene. He said the assistant chief also was watching the truck and begain yelling "he's not stopping, he's not stopping. Run!"
The officers outside their vehicles all ran for safety including diving into ditches and into the median of the interstate.
Hudson Fire Lieutenant Jason Brutlag saw the collision and said, "It almost looked like the vehicle exploded."  Brutlag said the crash created a chain reaction that damaged several other vehicles and injured four firefighters.  Brutlag saw the fireman that was killed, saw his arm outstretched and then the firefighter disappeared into the lights.
All of the firefighters agreed that the scene was well lit, with arrows directing drivers into the right lane away from emergency vehicles. Other drivers slowed down as they approached the scene according to statements.
According to the Assistant State Attorney John Shim, the semi driver stated he was going no more than 50 miles per hour when he struck the Hudson fire vehicle. the defendant trucking is company is alleged to have committed numerous violations including failing to properly train the driver, not keeping adequate records, permitting the driver top operate without proper safety controls and not investigating the competence of the driver.
I am interested in the results of this trial as we have many semi-truck accident cases.  Just about everyone has heard about the January truck accident on Interstate 80 that recently killed a Wheeling man and seriously injured an Illinois state trooper as we have blogged about it several times.  The circumstances are very similar in that in both situations emergency vehicles were assisting trucks on the interstate when they were struck from behind by a semi-truck.
Truck accidents usually involve serious injuries and even fatalities because of their size.  Passenger vehicles and pedestrians are severely overwhelmed by the size of a semi-truck. Essentially, when a semi-truck is traveling at any rate of speed and fails to brake, it is as if they can drive through the other vehicles.  When emergency vehicles are on the side of the road, with their emergency lights on, one has to consider what else could have caused the accident? Did the truck driver not see the lights?  Was the truck driver fatigued or distracted?  What were the highway conditions and visibility that night that might have hindered the truck driver from seeing? Or was the truck driver being careless?
Why is it so important to us to know the reasons for truck crashes?
We all want to know the reasons or causes of the crashes that happen on our interstates for a number of reasons. One, if it is your loved one who is injured or killed, you want to know why, but the other, main reason we want to know all of the causes is for prevention.  If a truck driver can hit well lit emergency vehicles, then what are the odds, that a truck can hit us in a passenger car with just our flashers on if one of us should become stranded? The "what if" scenarios are unlimited and we all know the importance of transportation companies making safety their number one priority for the sake of all interstate motorists.  Illinois and Missouri have seen many truck accidents on our interstates and they are always serious if not fatal.
When we examine the causes, it is often that we find the accidents could have been preventable. Often, the factors that contribute to truck accidents are choices that are made hours and weeks before a crash such as in the case of a driver choosing to drive while fatigued, a trucking company not properly maintaining a truck or a trucking company placing unrealistic and unsafe expectations of deadlines for drivers.  Trucking companies are in business to obviously make money and they transport billions of dollars of merchandise to stores for us. Interstate trucking is an important industry and as a society, we need them; however, we need them to transport those good safely. When a trucking company does not follow regulations or allows/encourages drivers to unsafe procedures, it is unfair to all of us including the truck driver
Firefighters, first responders and ambulance personnel are on the scene to improve safety and to assist those needing help.  Being a firefighter is dangerous work in of itself, but if someone is negligent and runs into one of them while they are in the process of assisting another motorist, then we want to know why. We want to know if the driver was following hours of service regulations or if he/she is driving fatigued.
Common Causes of Truck Accidents
While we are not indicating that any of these common causes are the causes or contributing causes of the accidents mentioned above, we wanted to mention some common causes of truck accidents according to research and statistics:
Air Brakes and Braking Failure–Large trucks can weigh up to 80,000 pounds when fully loaded and require 240 feet to stop completely at 55 mph and even longer at 70 miles per hour.  Trucks typically have compressed air brake systems. Air brakes can malfunction if not regularly adjusted and properly maintained.  A widely cited study of causes of large truck crashes conducted by the U.S. Department of Transportation found that 29 percent of truck crashes involved a braking failure, misadjusted brakes and other brake problems.  A lack of regular maintenance of a truck's braking system may cause a braking failures and make a trucking company legally liable for injuries or fatalities caused in a truck accident
Failure to Stop-Because of the stopping distance required for a truck, sometimes drivers fail to stop in time because they misjudge the distance such as at stop lights, intersections or flashing lights. The trucker may be fatigued and fail to see the lights. An overloaded truck or poorly adjusted brakes can causes a truck driver to run a light or fail to stop in time to avoid a crash
Truck Driver Fatigue- Commercial truck drivers spend long hours behind the wheel and often cover thousands of miles facing tight delivery deadlines.  Driver fatigue is a recognized occupational hazard of trucks and cause thousands of serious and fatal accidents every years. According to the Large Truck Crash Causation Study, a 2007 federal study, driver fatigue is a contributing factor to more than one out of every seven crashes involving a large truck, semi-trailers or 18 wheeler. Truck driver fatigue has been addressed in the July 2013 hours of service regulation reducing the amount of hours a truck driver may be behind the wheel without a rest break. see March 7, 2014 blog
If you or a loved one has been involved in a truck accident and you have sustained serious injuries or lost a loved one, consulting a personal injury attorney is critical.  Trucking accidents require thorough investigations and the use of expert accident reconstructionists. If a truck accident occurs on an interstate, then the state highway patrol generally investigates, however, depending on the nature of the crash, other experts may be retained to assist or conduct an independent investigation.  Not only is the truck driver possibly liable for injuries caused in a truck accident, but the trucking company may be liable if they have allowed or encouraged the driver to violate hours of service or if they have not properly maintained the equipment.  Truck drivers are like many of us—they push to meet their deadlines.  However, the desire to meet deadlines can never endanger the truck driver's life or the other motorists.  Choosing to violate hours of service regulations, overloading or not following traffic laws are choices and we are all responsible for our choices.
At The Cagle Law Firm, we know that truck accidents are very different than other types of accidents such as car accidents or pickup accidents.  Truck drivers are usually employed and monitored by a trucking company and when the truck driver is involved in a crash, there are many things to consider.  Usually, by nature of their size, truck crashes cause a great deal of damage to both physical property and persons.  Consultations regarding a truck accident is always free and our attorneys can be reached seven days a week, locally (314) 276-1681 or toll free (800)685-3302