Tri-Colour Gniocchi Pasta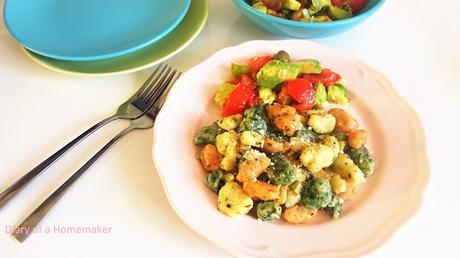 Tri-Colour Gniocchi Pasta
Gniocchi are Italian dumplings made with potatoes, flour and eggs. No fancy shamansy ingredients just three vegetables and basic pasta ingredients come together to create these delectable tricoloured gniocchi.
Instead of plain flour gniocchi may also be made with farina 00 (Italian flour) wholewheat flour, stale bread or semolina. Potato Gniocchi are the most popular but other vegetables like pumpkin, tomatoes and spinach may also be used. That's why I have made these tricoloured gniochi using spinach, potatoes and tomarto paste.There are different ways of serving the gniocchi. These can be served over a tomato based sauce or a sauce made with butter and herbs. Sage is the most popular herb used for this purpose. I mostly like to serve mine over a tomato based sauce.
There are some secrets for making fluffy and melt in the mouth gniocchi. Firstly mash the potatoes while still warm. Proper proportion of flour is also crucial in making a good gniocchi. Adding more flour results in a chewy texture rather than a soft delicate one. Kneading the gniocchi too much can result in the flour releasing gluten, the product is again a chewy gniocchi.  Last but not the least don't over cook the gniocchi or it will turn into a mush. A good gniocchi should still have a good bite to it. For making professional looking gniocchi you can use a gniocchi making board. I haven't used the board so my tricoloured gniocchi has a homemade look to it.
Also check out Pasta Primavera and 5 A Day Veggie Pasta for quick and easy vegetarian dishes
IngredientsQuantity
potatoes3 medium
cooked, strained spinach 30g
 thick tomato paste2 tbsps
plain white flour100g
egg 1 whole
nutmegpinch
freshly ground black pepperto taste 
salt to taste 
olive oil or butter2 tbsps
minced garlic  1-2 cloves
fresh or dried sage 1 tbsp
Boil potatoes and mash either with the help of a fork or a potato masher.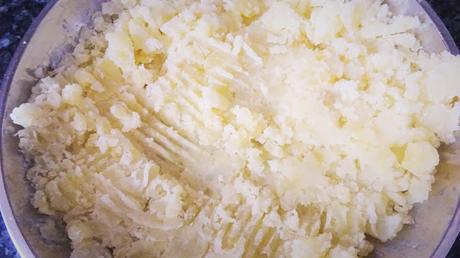 Add the flour, salt, black pepper and nutmeg.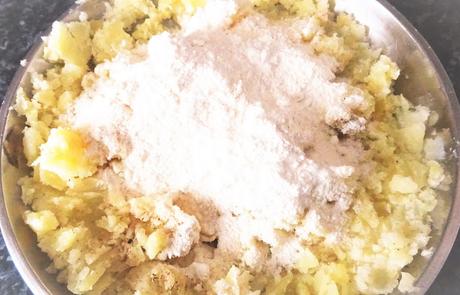 Now add in the egg and knead very lightly.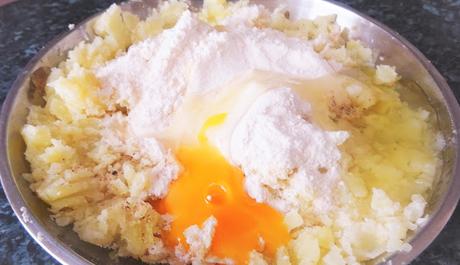 Cover with a cling film and place in the fridge for an hour or two.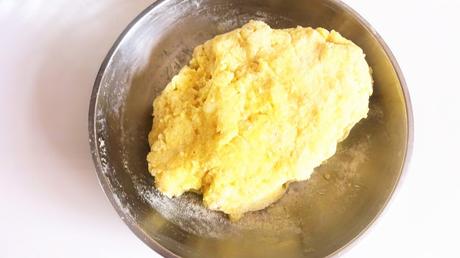 Take out of the fridge and divide the gniocchi dough into three equal parts as shown in the picture.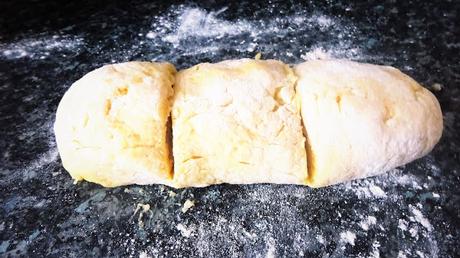 Mix tomato paste into one part.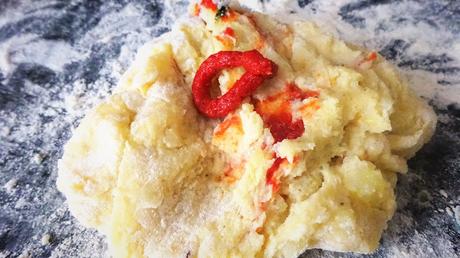 Mix until the tomato paste is homogenously mixed into the dough. Place in the fridge until needed.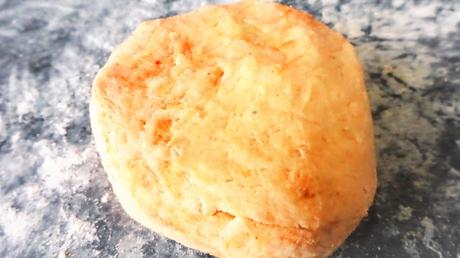 Add cooked and strained spinach into the second part. I didn't strain out enough water from the spinach and so had a hard time handling the dough.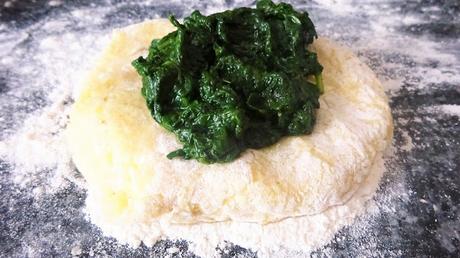 Again mix properly until the spinach is homogenously distributed into the dough. Plce into thefridge until needed.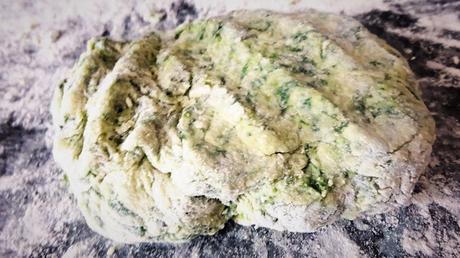 The third portion of the dough remains plain. Now roll each portion into a thin log and cut into bite size pieces. As shown.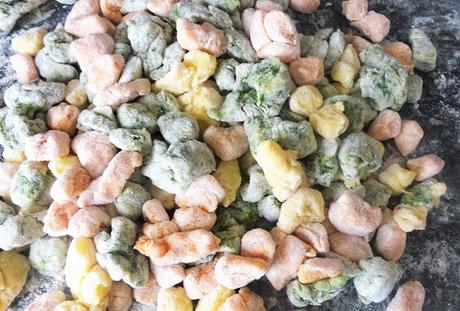 Bring a pot of salted water to a rolling boil. Add the gniocchi. The gniocchi will be ready when it floats to the top.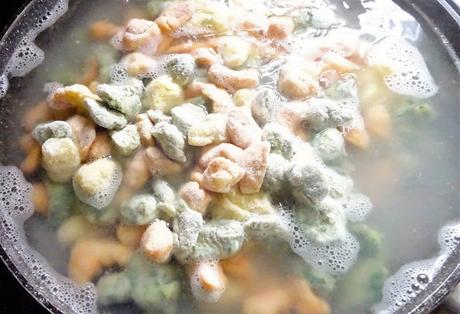 Drain through a colander and set aside.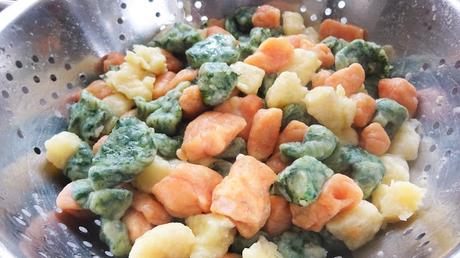 Saute the chopped garlic in olive oil. Add the mixed herbs and then add the par boiled gniocchi.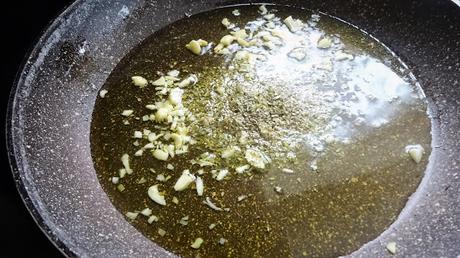 Toss the gniocchi with the garlic and oil, season with salt and pepper.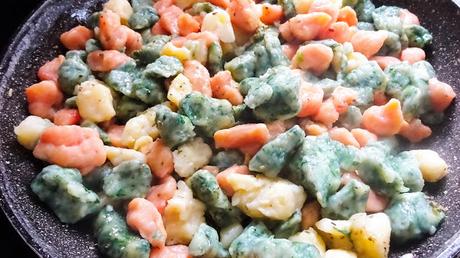 Remove from heat and serve along with a salad or Italian bread (pane)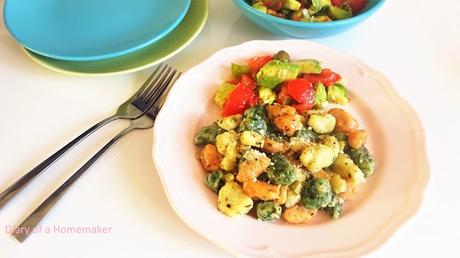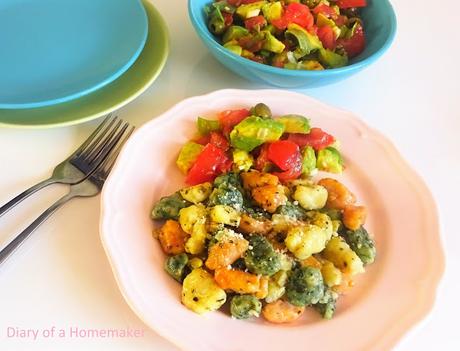 Tri-Colour Gniocchi Pasta
Quick and easy tricoloured gniocchi makes an impressive vegetarian dish so do try it and let me know if you like it.
Happy Cooking!