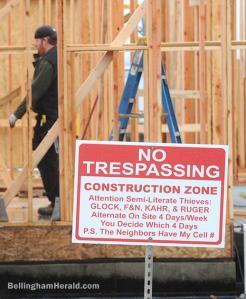 Insensitive?
Trespassing sign across from Bellingham school makes gun threats
Bellingham Herald: A "no trespassing" sign that indirectly threatens to shoot violators has upset a few parents and students at Fairhaven Middle School after it went up right across the street from campus.
The sign, at a home construction site at 95 Hawthorn Road, is directly across from the school's entrance. Parents and children started noticing it when students returned from winter break in January.
Below the words "No trespassing" and "Construction zone" in large letters, the sign reads: "Attention semi-literate thieves: GLOCK, F&N, KAHR & RUGER alternate on site 4 days/week. You decide which 4 days. P.S. The neighbors have my cell #."
When contacted by a reporter, property owner Elliott Fine refused to comment about the trespassing sign, except to say that "there have been issues with people stealing from the site, and that's why the sign went up." Bellingham police responded to the property Dec. 4 for a report of $400 worth of scrap diamond-embossed metal plates being stolen, police spokesman Mark Young said.
The sign isn't in violation of any laws, Young said. Fairhaven Principal Michelle Kuss-Cybula agreed that the sign is legal, but with it going up some time around the Dec. 14 Sandy Hook school shootings, she said it's really more about the timing. A few parents and students have expressed concern about the sign and its language.
"Our message is that it's definitely not something we would promote around a schoolyard," she said of the sign's language. "We want to keep our kids safe and support a safe learning environment."
Bellingham School District staff has tried to talk to Fine about the sign, but his response has been that it's legal and on private property, district spokeswoman Tanya Rowe said. "We've had conversations to try to work through the issue and haven't come to any resolution," she said.
Fairhaven PTSA co-president Greg McCracken said he doesn't think that the sign is directed at the school. A few parents have spoken with PTSA members about the sign and its insensitivity in the wake of the Sandy Hook shootings.
"As insensitive as it is, there's nothing the school or the PTSA can do about it," he said. "It's free speech, and he's got the right to do it."
As a gun rights advocate, I see nothing threatening about this sign (except to a criminal). Instead of worrying about some internal threats this sign might pose, this could be a good point to start a conversation with children about the Second Amendment and how people are empowered to protect themselves. And how gun free zones aren't the safest environment for learning.
DCG