Come summer, come comfort. Denim is among the top fashion synonyms for comfort. It may not be a favorite among the highest echelons of fashion but has support in the masses, left wing (pop culture) and stylistas. The obsession over vintage looking denim with starry feel continues with celebrities embracing distressed and grunge denims.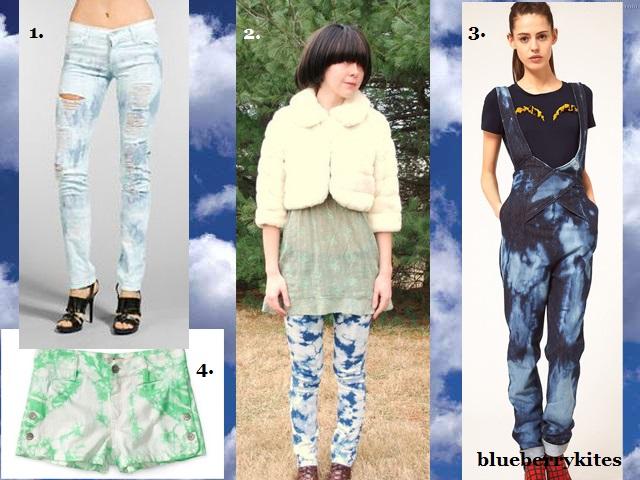 (1.  7 For All Mankind 2. Forever 21 3. Danielle Scutt 4. Juicy Couture)
Cloud wash denims have been around and pop stars have been sporting them forever. Cloud wash gives an impression of cloud break on denim, in form of white patches. Think an explosion of cloud on your denim. Tie & Dye denim are everywhere this season, catered by many niche and mass market brands. Owing to the graphic print and op art trend on runways, tie & dye has caught up big.
Happily spotted on Rihanna, Jessica Alba and Gwen Stefani.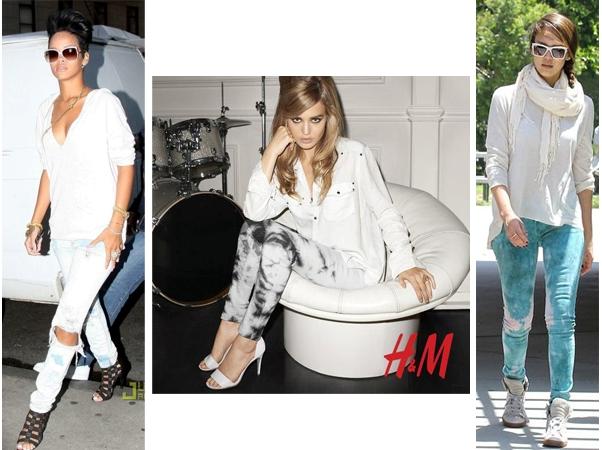 (left to right: Rihanna in Current/Elliott 1968 Destroyed Jeans, Georgia May Jagger in H&M RocknRoll, Jessica Alba in  Earnest Sewn Green TieDye Jeans)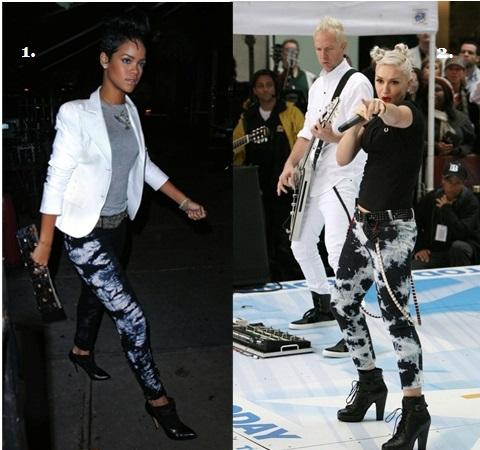 (Rihanna in JBrand TieDye Jeans, Gwen Stefani in Current/Elliott Dark Cloud Wash Jeans)
The key to dress up this denim is to keep the rest of look basic, go solid or black-white on upper body color and add metal to your accessories. From the regular blue jean and indigo, these washes are also available in pastels, black and ink. Scourge the fashion retailers like ZARA and H&M; also one can splurge on the connoisseur of these washes - Current/Elliott, JBrand, 7 For All Mankind, Black Orchid.
A cloud wash / tie & dye jeans can be teamed up with solid color shirt or tee. this style is worn best with white tees but to take a cue, see the dominating color in the jeans. If white is showing majorly then a long sleeveless white shirt would go well. If blue, black or other color is dominating then pair it up with black / gray tees. The rule is to keep the pairing color solid, a bit of fringe or peek-a-boo adds up to the style.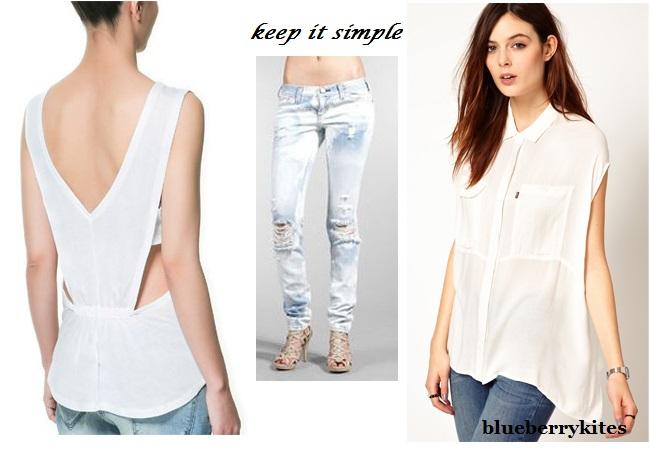 For outerwear, like a vest or jacket, cloud wash / tie & dye can be layered upon feminine dress, subtle print like polka dots, soft almost powdery colors and thin fabrics comprising cotton / silk chiffon. The theme is white clouds, which sometimes appear like powder and cotton balls.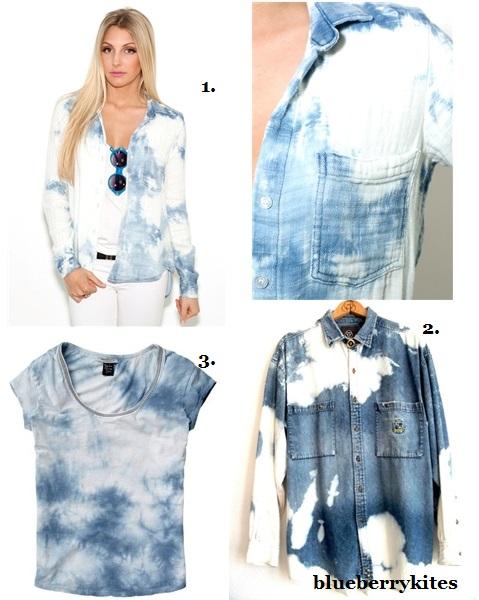 (1. Bella Dahl Pocket Button Down in Cloud Wash 2. Onano77 3. Scotch & Soda)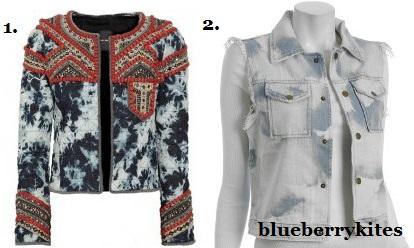 (1. Isabel Marant Embellished TieDye Jacket 2. Current/Elliott Cloud Wash Destroy 'JJ' Denim Jacket)
For accessories, embrace gold finish and leather bracelets. Studded textures team well with these denims and since denim fabric is all about comfort, go for sneakers or flat sandals for footwear. Keeping the rest of look almost monochrome, you can opt for a juicy color flat.
Recommendation - Look for skinny and tapered fit jeans, a bit of stretch will do good and bring out the wash.
images courtesy - denimology.com, denimblog.com, asos.com, zara.com, chictopia, hm.com,harpersbazaar,onano77.com