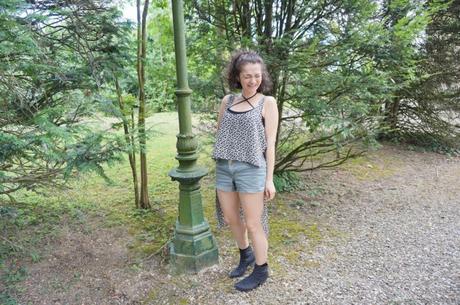 I try to stay away from certain trends, but others....others get their hold on me. Big Time. Such is the case with the long tunic top in all of its forms including the high-low hemline. I've previously worn a long tunic dress shirt t (as seen in this post) but this week the weather is warm so I've been wearing a maxi tank.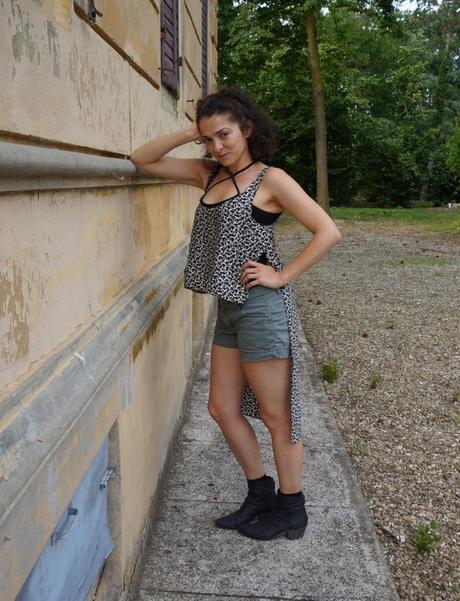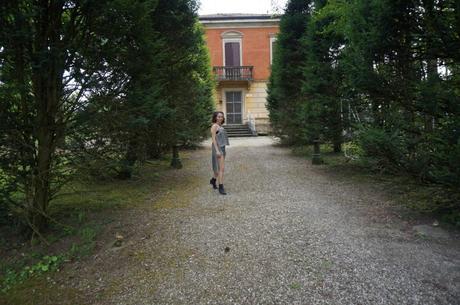 The High-Low Top
I was a little worried that at only 149 cm (that's 4 feet 9 inches for your Imperial folk) that I wouldn't be able to pull off wearing a long maxi shirt. I often have a hard time finding long summer dresses that don't drag on the floor, and other clothing items with the right proportions. I mean I was to wear the trend but not if it means leaving the house in a safety hazard, I do enough tripping on my own.
However, I find that high-low tank tops give me the best of both worlds, The ability to wear the long tunic trend (in the back) and the flattering short front to elongate the legs and body. I love the way this floral printed tank looks worn with shorts and pointy toe booties, and found that I was comfortable wearing short shorts because the shirt covered by butt (and potential back of leg cellulite!). Please excuse how white I am....perhaps by August I will be a darker shade of milk!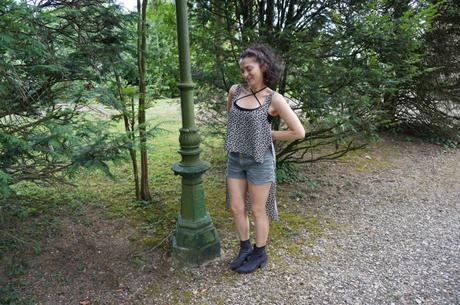 We should talk about my shorts for a moment....I've had them since I was 22, so roughly 14 years. They were fine when I was 22 and I would say even into my early 30s, but now I'm in my mid-30s (soon to be late-30s...yikes!!) and what do we think? Just a little too short? You can be honest with me, I can take it!
As much as I still like them ( a lot) and as much as they still button up (although in one of these photos I'm flying low....I'll let you find that picture all on your own!), I'm coming to terms with the fact that maybe, just maybe they are a little too short!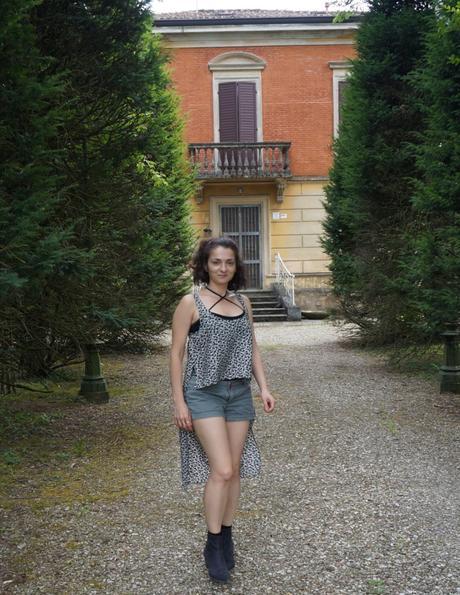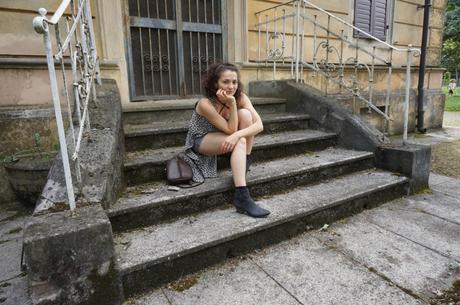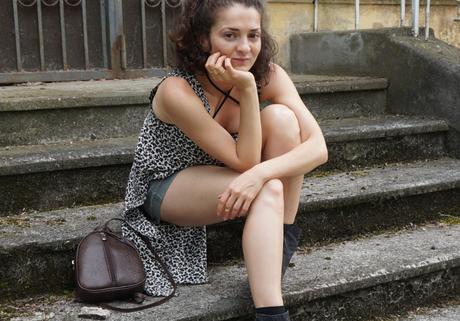 My 1990s original vintage little backpack was bought for two euro at a thrift store in beautiful Comacchio (seen in this post), my real python booties are by the brand Vic Matie (link to shop and full description in my "shoe haul" post, and my gold plated mid-finger rings were found on Shopbop for only $35 by the brand Gorjana and are still available here.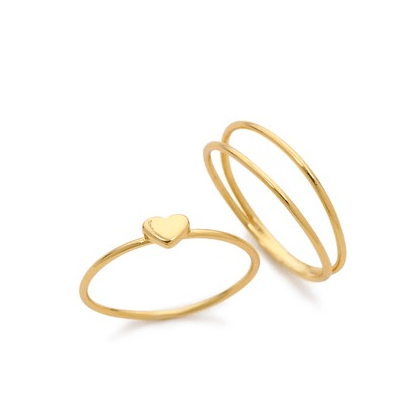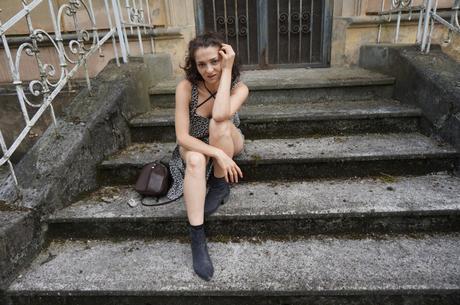 The Long Line Shirt Trend
The long shirt trend has been big in the men's fashion world for quite sometime now. Let's take a moment to reflect on the trend that started as a statement about social acceptability (see, fashion influences culture more than you think!). In North America long white t-shirts were often associated with drug dealers in large cities from the early 2000s onward. I remember from my "clubbing" days that at one point they were even banned from certain clubs, when in actual fact this was a carry-over from street wear influenced by basketball culture.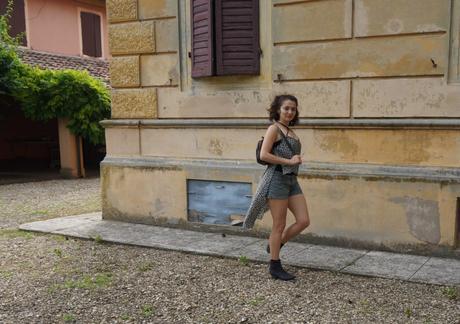 Revolutionary fashion designer Rick Owens was the first to bring the elongated t-shirt to the runway in his men's lines and by 2013 they were EVERYWHERE for men. We now see this influence in women's wear with long t-shirts, tank tops, dress shirts and oversized tunics....but it was a long time coming!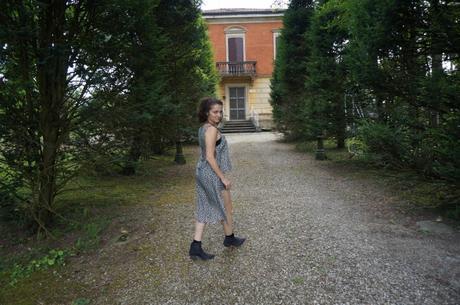 My shirt is a two-panel high-low hemline top with a small floral print. Intended for layering I would never wear this piece alone and found that by adding a tank top with "X" straps over the chest I felt a little more covered and not so exposed.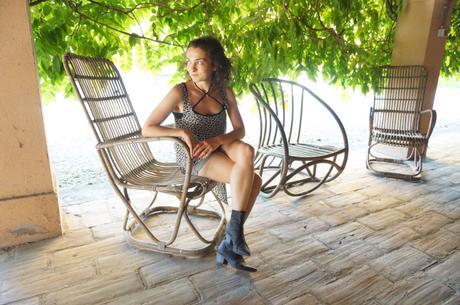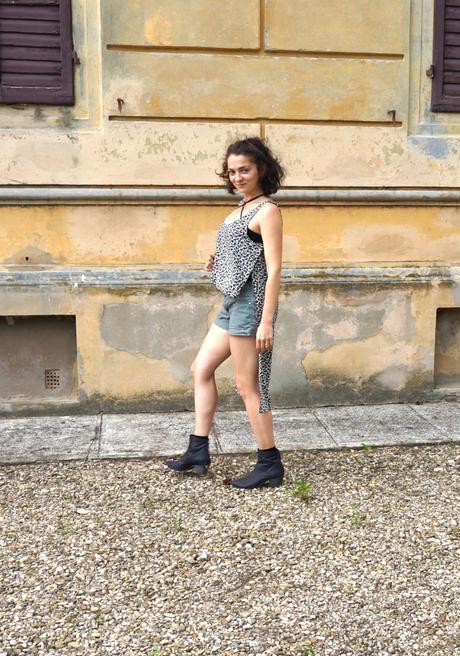 Pin the Trend
I've just recently started a new Pinterest board dedicated to the long tunic top & high-low hemline Trends, you can follow the board here and I've already started pinning some of my favorite looks from Shopcop.com.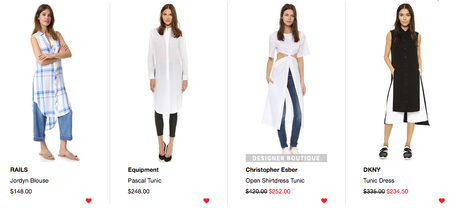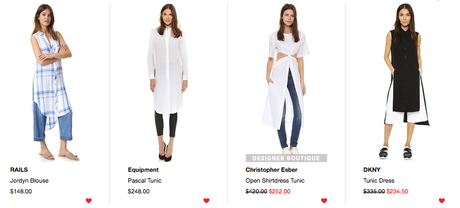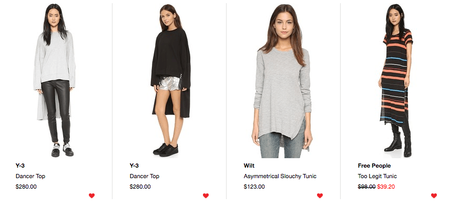 I know that this trend isn't for everyone, and I've actually been reluctant to adopt the high-low hemline in the past, but when paired with the over-length trend I find it really flattering. I think this would also look great with a short skirt but again I'm a little worried that I can't pull off the length anymore.
Have a great tuesday friends, I've got some mom street style posts coming your way along with a major life update post!!
#REASONSTODRESS DRESS TO IMPRESS FASHION BLOGGER LINKUP
Welcome to the #REASONSTODRESS DRESS TO IMPRESS LINKUP for fashion and style bloggers!
This linkup is hosted by REASONS TO DRESS - An Italian lifestyle blog about an expat-Canadian married to an Italian leather artisan. Part of this new linkup is sharing up and coming style bloggers and we're always looking for fabulous co-hosts who will be interviewed and featured - email [email protected] for info!

SHARE YOUR POST ON TWITTER with the hashtag #REASONSTODRESS & you'll get a retweet!
REASONS TO DRESS - An Italian Lifestyle Blog About Fashion, Travel & Life in Italy
THIS WEEK'S BANNER / INSTAGRAM IMAGE :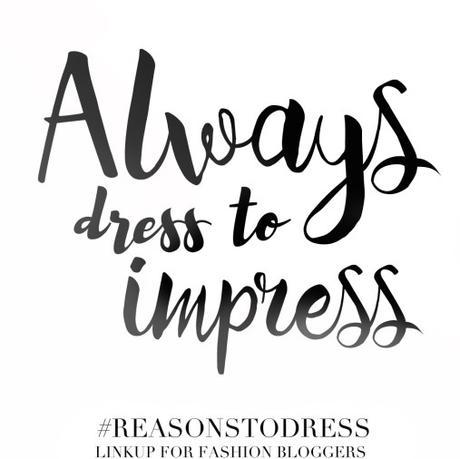 Grab the 200 x 200 version of this banner for your blog post with the code below!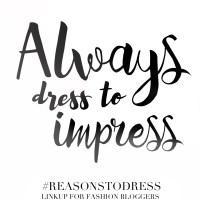 PLEASE : Linkup your STYLE related posts, new and old! Or Linkup a FASHION related picture from Instagram with the hashtag #REASONSTODRESS
PLEASE: Add the badge or a link back to EITHER of the weekly hosts
PLEASE: Follow each host on at least 1 social network , we're friendly, social and generally over-sharers! Let us know that you've followed so that we can share the love!
PLEASE: Please be social and visit a post that interests you. Don't forget to use the #REASONSTODRESS hashtag to let people know how you found them!