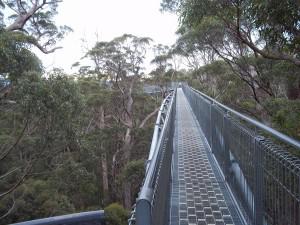 I tried getting this up a couple of days ago but the internet at the News Agency dropped out on me.
Of the things to do in the southern part of Western Australia the tree top walk was on the list.  It is in the Valley of the Giants in Nornalup about 40/km away from where I am staying.  I woke up before the sun, exercised, wrote, and let the chooks out after breakfast.  It was cold and more overcast than I had expected so I let the ute run a bit to warm up.  The weather wasn't the best but it was still early and it could shape up to be anything really.  I grabbed my dilly bag (basically a bag of lunch) and set out for Nornalup.  
Upon pulling up to the national park I learned that the site was owned by the native Aboriginals.  I sat in the ute for a moment and looked around the vehicle at the 6′ diameter tree trunks.  I didn't know what to expect really.  It makes it more exciting that way, doesn't it?  It is like going into a good movie before you realise it's good.
As I approached the walkway that would take me to the tree tops of the massive tingle trees I saw a rig of metal secured to the ground and suspended from one large pole.  The first thing that grabbed my attention as I walked onto the monsterous mesh of metal was that it moved!  It moved a lot!  What you don't realize is that the suspension part is just that, a suspension bridge, and it sways back and forth and allows for all vibration and movement to be felt with surprising sensitivity.