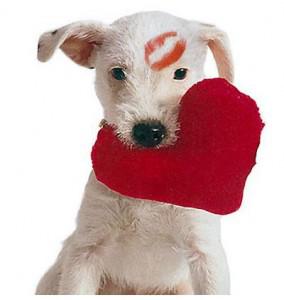 What are you going to give your furry four-legged Valentine? Lots of puppy love, of course, but your pup is going to be begging for some treats all day long. There's no harm in giving a few extra treats on this special holiday, but remember: There are some "treats" that should never be given to your dog, like chocolate.
While the "Good Treats" below are good for your dog, it's actually even better to give your Valentine's Day pup dog treats instead. Dog treats, like Cesar's are formulated especially for your pup. Treats are made of ingredients like wheat and rice, which can even help their digestive system. Treats like Cesar's® Softies Dog Treats bite size are only 7 calories and resealable to guarantee freshness.
Good Treats
Peanut Butter. A pet and pet parent favorite, peanut butter is a good treat for your dog this Valentine's Day. Peanut butter is great — high in protein and nutrients. It's best to give your pet the least processed peanut butter — preferably organic — because oils and sugars used in highly processed peanut butter is not healthy for your dog. Just keep in mind that like pet parents, pets can be allergic to peanuts. If you have concerns about an allergic reaction, contact your veterinarian.
Apple. An apple a day keeps the doctor away (for the pet parent), but apples are a great Valentine's Day treat too. Dogs love the crunchy, healthy snack. Apples are high in vitamin A, vitamin C and fiber, making it a super-healthy and delicious treat. When giving your dog apples, remember to take off the skin because it's full of plant chemicals. Never give your dog the core or seeds because the seeds contain cyanide, which is harmful.
Sweet Potato. Sweet potato for your Valentine's Day sweetie! Sweet potatoes are simple, healthy treats that are easy to get at the supermarket. They have lots of fiber, vitamin B6, vitamin C and beta-carotene. Even better, you can slice and dehydrate these for a great chewy (super healthy) treat for your beloved furry Valentine.
Popcorn. Time to snuggle up with your Valentine for some quality together time. Maybe even pop in your favorite doggie movie. Popcorn can be a fun, low calorie treat for your pet (and you). Just remember: If you give your dog popcorn, make sure it's air popped — with no butter and no salt.
Bad Treats
Chocolate. You should never, ever give your dog chocolate. It's a great Valentine's Day treat for pet parents only. Chocolate is toxic for pets and can make your dog extremely sick. If your Valentine's Day pooch has gotten his paws on some of your Valentine's Day chocolate, make sure to contact your veterinarian immediately.
Candy. Other candies are usually not as toxic as chocolate, but they are still a bad treat. They're high in sugar and other processed chemicals, which can be bad for pets and make them ill. If your Valentine's pup has a sweet tooth, give him one of the "Good Treats" like apples or sweet potato; they won't even know it's not candy!
Bones. You always hear "give your dog a bone," but this might actually be a bad treat (aside from the "bones" you buy at the pet store). Especially with holiday meals, it's not a good idea to give your dog a meat bone. Your furry Valentine might fur-ociously devour the bone, but meat bones can splinter and puncture your pet's stomach. Chicken and other poultry bones are especially dangerous because they are brittle and easily splinter.
You don't have to be alone this Valentine's Day, and even if you're not, there is always more room for puppy love! Adopt a cat or dog this holiday at your local animal shelter.
~ Courtesy of the Huffington Post