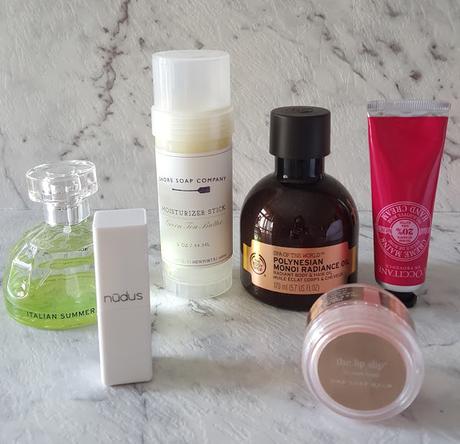 Sometimes you just want to feel good. Whether you're having a bad day, feeling sick or you just want a pick me up, beauty products are a great way to cheer yourself up.
Today I'm sharing with you some of the products I reach for when I need to perk myself up. 
The Body Shop is one of my favorite stores, they have so many beautiful products. Their new Spa of the World range is beautiful, I love everything I've tried so far. The products aren't cheap but are worth the splurge. I've been using Polynesian Monoi Radiance Oil almost daily, it smells so beautiful and can be used on my hair and as a body treatment.
If you're in the market for a fresh summer scent, you can't go past Italian Summer Fig. It's a gorgeous, fresh green scent that I can see myself wearing all summer.
Nudus is one of my all time favorite lipstick brands. They are all natural and just beautiful. At $42 each they aren't cheap, but are well worth the splurge. 
Lazy/time poor beauties will love the Shore Soap Co Moisturizer Sticks. I swipe some on, rub it in and I'm good to go. I have the green tea scent which smells beautiful and also works as a very light perfume on days when I don't want a strong fragrance. 
L'Occitane make some of my favorite hand creams. If I could only use one brand of hand cream for the rest of my life it'd be L'Occitane. This is the first time I've used their Rose hand cream and it's heavenly. It's deeply hydrating, absorbs quickly and smells amazing. 
Naturally there had to be a lip balm in this post. Most of the lip balms that I use cost under $15. Every now and again though, I want a treat and a little bit of luxury, so I'll splurge on an expensive lip gloss. Sara Happ The Lip Slip is a beautiful balm to buy when you want to treat yourself. It has a tiny bit of shimmer and is a dream to apply.
What products do you use to perk yourself up or when you want a treat?