Announcing
Souvenir
August 16, 2013 through September 20, 2013
The Creative Access Art Center (CAAC) is a new venue for our TVAA exhibition.  This is the same place that we have our bi-monthly meetings.  While Boise State Public Radio (BSPR) is being remodeled we are pleased to be able to take this opportunity to work with CAAC and to take advantage of their location in downtown Boise.  Because of their great location we will have a second opening (which we're calling a Mingle) on the First Thursday in September.
August 16, 2013
 - Opening Reception at CAAC, from 
5:00 to 8:00 pm
.  No host bar with wine and beer will be provided by Boise River Catering.  We will also have some tasty finger foods provided by artist Felicia Weston.
September 5, 2013
 - First Thursday Mingle at CAAC, from 
5:00 to 8:00 pm
. No host bar with wine and beer provided by Boise River Catering.  Felicia will be cooking up something delicious for us once again.
Prospectus
An exhibition showcasing small works with a travel theme: Mementos of escape from our normal routine, small enough to fit in your carry-on luggage. Memories of favorite trips, childhood vacations, the monument inside the snow-globe, the miniature Eiffel Tower, the postcards, and the stamps from other countries...What did you do on your summer vacation? 
This was the perfect show for me to enter as this fits most of the work I do!
These are the two of mine that got accepted.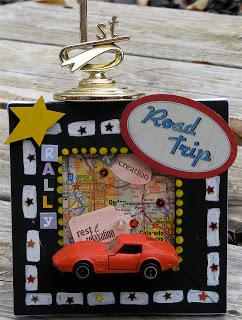 Road Trip
8 1/2" x 5 1/2" 
$35


This small piece contains a replica of the 1976 corvette that I used to have when I was single. It brings back good memories but once I had kids it was no longer practical.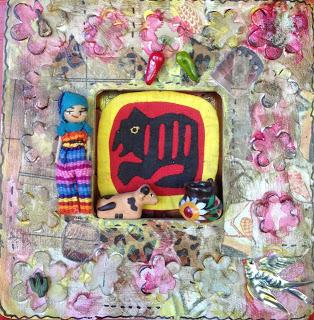 Mola #1
$35
This 8" x 8" mixed media piece highlights some of the treasures found south of the border.
Can't wait to see what everyone else has done! Hope to see many of you at the opening!