My parents arrived on a Thursday evening, so the next day was full with the usual Friday events.  First we met at Karmen cafe for breakfast.  Breakfast  (Kahvalta) is a big deal in Turkey.  A typical Turkish breakfast includes cheese, salami, tomatoes, olives, jam, bread and an egg.  At Karmen they also add sigara boregi (cigarette rolls, long thin fried pastry with cheese) and delicious home-made french fries.  They also serve the best tea around.  But Karmen is really a superb pastry shop, and after breakfast that's all you can get there.  You'd think that since they have eggs, cheese and fries they could make you an omelet or a sandwich for lunch.  But no, after Kahvahti you are *forced* to eat their delicious cookies, cakes or pastries.  Oh well.
After breakfast we walked to the Friday pazaar a few blocks away.  I showed my mom all the fresh produce, including giant-sized oranges, artichokes and cauliflower.  Dad was bored.  He doesn't like shopping at home, so there was really no reason to expect him to like it here.  On the way back to my apartment we stopped for a tea break at Nur, one of a chain of pastry shops.  Their simits (sort of a sesame bagel )  are amazing, especially when I get them as they're coming out of the oven, but their tea isn't as good as Karmen's.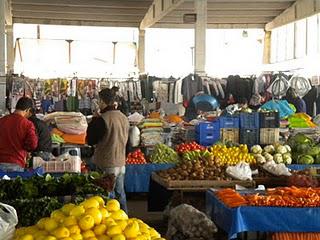 The Friday Pazaar
Back at my apartment, my parents took a nap before the evening activity of attending Antalya's weekly Symphony concert.  It was an interesting concert consisting of various instrumental concertos.  My favorite was the Trombone Concerto by Derek Bourgeois.  I'd never heard a virtuoso classical trombone before, so that was fun.  At intermission my parents met several of my friends, some of whom they would see again at the book club and Ayyas bar.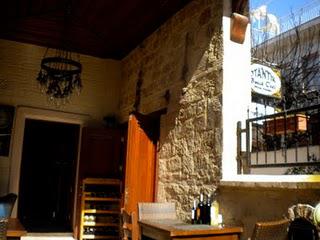 Otantik restaurant and wine bar.
The book club, at Carol's house, is downtown.  So we spent the early part of the day in Kaleici, and had a nice lunch at Otantik.  I love Otantik for both the food and the setting.  We ate in the courtyard and all had the daily menu of grilled chicken.  Daily menus at Otantik include soup, salad, pilav or noodles and desert (in this case, carrot cake).  Everything is of the best quality, and the whole lunch costs 9.5 TL (about 6 dollars).  We also had Turkish coffee, served in elegant cups and saucers with giant covers.  The coffee came with the traditional glass of water and Turkish Delight, as well as the not-so-traditional Amaretto.  I think that was just because I'm a regular and bring people there.
After lunch we strolled through Karaoglu Park to get to Carol's.  At the book club Dad did my homework.  I hadn't read anything I could share (everything was on my kindle) so Dad talked about the book I'd ordered from Amazon for my parents to bring to me.   
Portrait of a Turkish 
Family
 is a novel written as a memoir of a man whose family lost everything after the fall of the Ottoman Empire.   It got great reviews on the internet, but my dad said it was depressing.  I'll read it eventually.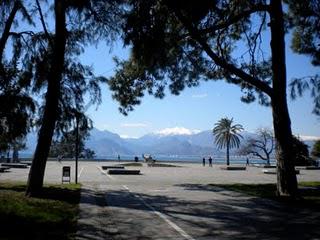 Karaoglu Park
My parents enjoyed the book club, not only because everyone (except me) had an interesting book to talk about (my mom even took notes!) but also because Carol made real coffee.  Not that Turkish coffee isn't real (it's like espresso), but if you want a regular coffee what you get here is Nescafe instant.  I keep telling people that Nescafe is not actually coffee,  and that it doesn't take any more time to pour hot water through a drip filter than it does to pour it into a cup with instant coffee in it, but I don't seem to be making much progress on that issue.
After the book club we took a dolmus (minibus) home, prompting my father to decree that from now on we'll be taking cabs everywhere.