Although we did see a lot in the three weeks my parents were in Turkey, much of our time was spent either eating or planning to eat.  There were a few well-known restaurants we wanted to try, several local places we frequented, and a couple of home-cooked meals.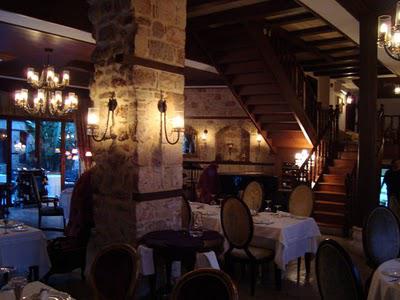 My parents' favorite restaurant was Seraser, an elegant establishment in a beautiful building furnished in an old-world style that seems a bit out of place in the otherwise casual Kaleici.  The service differs markedly from most local restaurants, in that they bring everyone's meal at the same time, and don't hover nearby waiting to snatch a plate away the instant a fork spears the last piece of food on it.  Seraser is coninental cuisine:  Duck, quail, and rib-eye were on the menu and there was an almost unheard of absence of kabobs.  Many other restaurants here also have lamb chops, but they are thin and usually overcooked.  The rack of lamb at Seraser was the real thing; thick chops served rare.  In fact, mine were so rare I had to send them back to be cooked longer.
Another restaurant on many lists is 7 Mehmet. a classy modern setting serving traditional grilled meats and various mezes.  Everything was good, and prices were not much higher than neighborhood places serving similar fare.   We also went to one of my favorite places near me, Mangal, and had grilled meat and chicken there. Mangal is very informal, but the meat is just as good.  At Mangal there's no mixed grill on the menu, just steak, kebabs, and chicken ordered by weight.
Lara Balik Evi is the best fish restaurant in town.  The Konyaalti branch is very close to the hotel where my parents were staying.  It's a simple and elegant setting like 7 Mehmet.  The waiters come around with mezes to choose from, and then you go pick out your fish.  I always have barbunya, the small red fish which are lightly fried and taste amazingly sweet.  The grilled cipura and levrek are also good, but those are competently prepared at the Baki Beach restaurants where I often end up.  The only other thing edible at those restaurants is french fries.  (Baki Beach is an unfortunate situation in which 20+ restaurants are owned by the same company and have identical menus.  Some are a bit better than others in preparation, service, music, or decor, but they are essentially the same.)
Another restaurant known for fish is Alara, but we went for lunch to enjoy the view.  The fried calamari was the best we'd had, but the rest of lunch was unremarkable.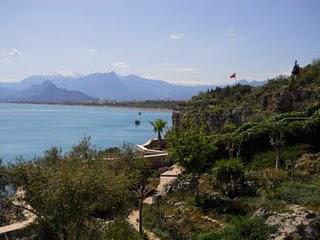 View from Alara restaurant.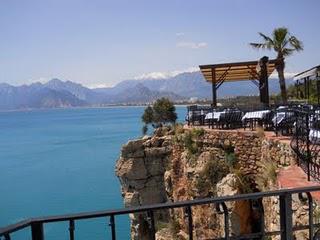 Of course we didn't "dine" at every meal.  When my parents came over to do laundry we ordered pizza from Bruno, a place near me run by Germans.  The pizza tastes better when you eat it in the restaurant, but sometimes it's nice to have it delivered.  It was also a good thing we did laundry together, since my mother was the one who discovered I'd been using detergent intended only for whites on all my clothes.  That explains the white blotches I have on so many of my garments.  The strange thing is, my clothes were fine until a month or so ago.  For almost a year nothing happened to my colored wash.  In any case, I now have the correct detergent.  It's easy to see how I made the mistake though.  When I went to the store where I buy cleaning supplies I couldn't find any liquid detergent for colored wash.  I asked a woman to help me, and she looked around and said there wasn't any.  She recommended another market nearby.  It had never occurred to me that a store that carried laundry detergent would have such a limited selection. 
At the end of laundry day we decided to try another place near my apartment.  We ended up at Istanbul Kanatci, which specializes in chicken wings.  It was a chilly day, and Dad asked about soup.  They didn't have any available, but offered to whip up some chicken soup for him.  We ate very respectable lamb kabobs, excellent fries, and delicious fresh bread.  My parents also learned the meaning of "Bay " and "Bayan" so as not to make any more rest room faux pas.  After tea we said goodnight and headed out to look for a taxi box.  (There are little yellow boxes attached to poles every block or so.  You push a button and a taxi comes in about a minute. Too bad we don't have these in NY, but I'm sure it's because kids would press the buttons and run away.)  The owner of the restaurant came out and asked where we were going, and then said his friend would drive us home.  That's the kind of service you only get in neighborhood restaurants unfrequented by tourists.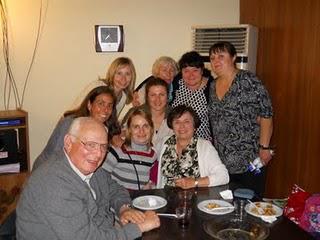 Speaking of non-touristy eating experiences,  we were treated to some home-made pastries by the Russian mothers of my students.  They wanted to do something special to welcome my parents.  Although Irina, the teacher who hired me, was the only English speaker of the group, my parents managed to communicate with everyone.  My mom was especially good with the kids, prompting Katya to ask whether my mom was a teacher.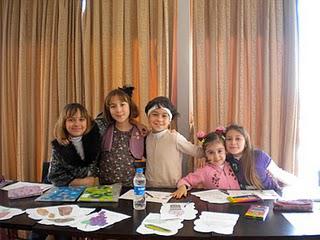 The other home-cooked meal was at Fadime's house, where I had lived for my first month in Antalya with my teacher Mehtap, Fadime's daughter.  It was great for me to see them again, and good for my parents to eat a healthy meal of vegetables after all those kebaps.  Fadime made exactly the meal I expected:  Mercimek corbasi (lentil soup), salad and dolma (zucchini, peppers and eggplants stuffed with rice).  She also surprised me with a chocolate pudding for dessert.  Also in attendance were two of Mehtap's students, one of whom is currently living with Fadime. It was a fun evening.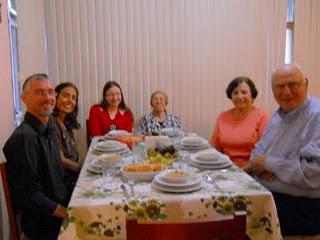 It's a testament to the healthy cuisine of Antalya that my parents didn't gain any weight on this vacation during which they ate out three times a day.  My mom felt so well here that when she got home she continued to eat tomatoes and cucumbers as part of her breakfast.  Can replacing coffee with tea be far behind?