My parents recently visited for three weeks. They stayed in a hotel at the beach here in Konyaalti which was in walking distance (for me) from my apartment. We did so much in three weeks that I'm going to need multiple posts. I'll need one just to cover all our meals.  But let's start with Kapadokya.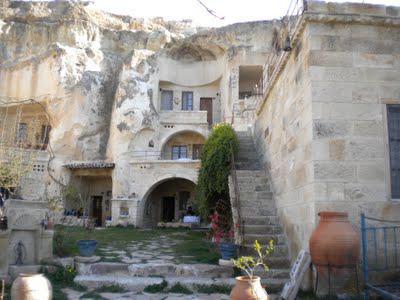 The hotel.
We arrived at the beautiful Elkep Evi hotel at 5:30, tired from the day of travel. Antalya and Kayseri are only an hour apart by direct flight, but alas there are no direct flights until June. So we had to fly to Istanbul, also an hour away, and change there for the one hour flight to Kayseri. When you add up the drive to the airport, the time between flights and the one hour van ride from Kayseri to Urgup you have a full day.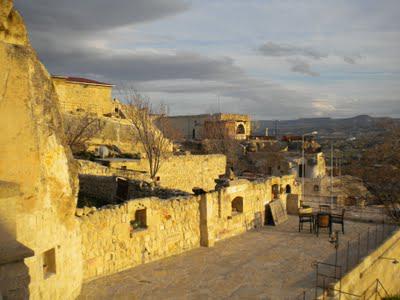 Another view of the hotel.

So we decided to relax in our rooms and then have dinner in the hotel. The room originally meant for my parents was up two flights of stone stairs, so we switched, and I got the room with the jacuzzi! This was a real treat for me because my apartment (like most Turkish apartments) has no bathtubs. Even the famous "Turkish Baths" have no actual baths. At a hamam you are scrubbed, massaged, and doused with water. No baths whatsoever. But I digress.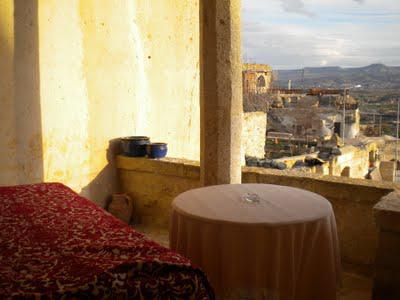 My balcony.
The rooms at Elkep Evi were all individually furnished with rugs, ceramics, and wall hangings from Kapadokya. They were all built into the surrounding caves, and all had giant balconies equipped with day beds. There were no televisions, but there were CD players we couldn't figure out how to work, and an odd assortment of CDs (including Carmina Burana and Edith Piaf). I took a bath and went to bed early.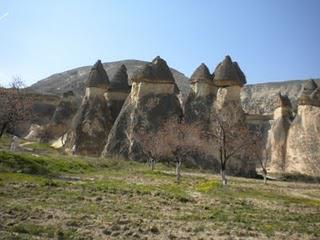 The next day our guide, Sagit, showed up promptly at 9:00 and we began our tour of the area with the curious rock formations known here as "fairy chimneys".  They are formed over millions of years from volcanic ash and water.  You can see all stages of their development: The semi-attached fat chimneys are younger than the separate thin ones.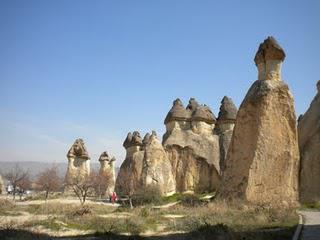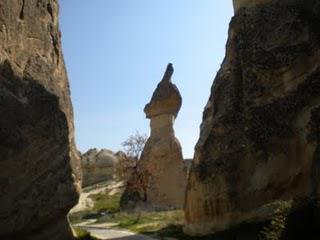 Some of them resemble other things.  There's a rock that looks like a camel, one like Napoleon's hat, and here's Bugs Bunny:
Sagit was very knowledgeable and explained the geology as well as pointing out these specific sights.  He also learned our names immediately, although he soon took to calling me "honey".  I laughed to myself all day as he flirted with me in the way I'm now quite used to.  They all have the same m. o.  Did you know all Turkish men are expert masseurs?  Yeah, me neither.
We had a delicious lunch of pide (like a very thin crust pizza with ground meat or cheese) at a lovely spot overlooking a river, then drove on to Avanos to see the ceramics.  We had a private demonstration, and I was offered the chance to try the potter's wheel myself.  The tour continued, after Turkish coffee, to watch the artists at work, one drawing the intricate designs and another painting the multi-colored glaze.  Onumlu Ceramics is a family business operating since 1870, and their family design is quite spectacular.  Of course, since these hand-made plates and vases take a long time to make, they are very expensive pieces of pottery.  When we were told "don't worry about the price, just pick out what you like and we'll make you a good price"  I knew we were in trouble.  But we now have very beautiful, if expensive, souvenirs of our trip.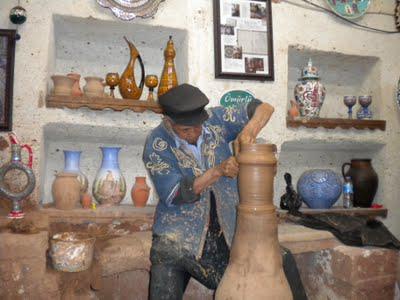 After a bit more driving, with stunning views at every turn, we went to the Goreme open air museum.  This museum is the remains of a nunnery and monastery (with an underground tunnel between them, of course), including several churches with frescos from the 10th-12th centuries.  Christians built their living quarters into the caves so as not to be discovered.  One of the churches is translated in English as "Church of the Snake".  That seemed odd to me, as I thought the snake was the bad guy in the bible. Turns out the church is so named because of the fresco of St. George slaying the dragon.  The Turkish word "yilan" means both snake and dragon, and someone chose the wrong one.  I have a feeling a lot of those same kind of mistakes were made translating the bible from ancient to modern languages.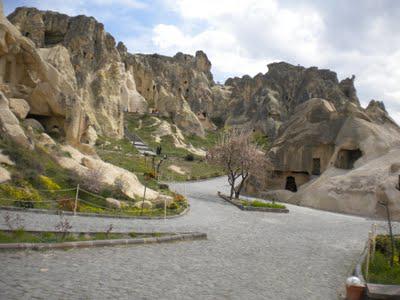 Goreme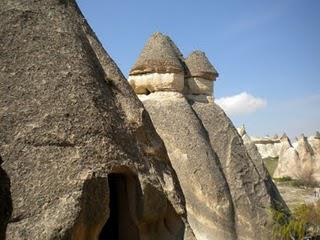 They make a big deal of the frescos here, but if you want to see frescos you really should go to Italy.  Sure, the Goreme frescos are old and in caves, but from an artistic standpoint they're not masterpieces.  They're also not in very good condition.
More impressive than Goreme's museum was the view of the town from the vantage point of Uchisar: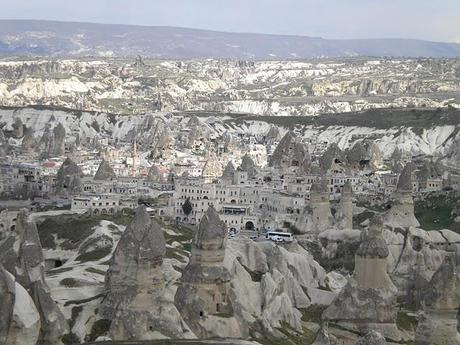 While at Uchisar I wandered off and bought a little nazar (evil eye) necklace.  These blue eyes are everywhere, and I figured it was time to have one.  I spoke a bit with the guy selling them, and he told me he was born in a cave. "I am cave boy", he said.  He also asked me to go out for a drink, but I escaped easily by invoking my parents.  Sagit had already asked me whether I had plans for this evening, and I'd told him my plan was to get to sleep early to prepare for the balloon ride.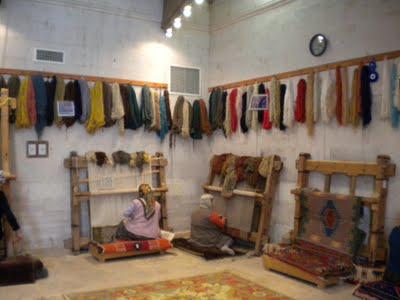 The next stop was a rug factory where we were shown how single and double knots are made and how the wool is dyed with natural ingredients.  We were also shown some award-winning rugs and several selections for us to buy.  After our splurge at the ceramic shop a rug purchase was not going to happen.  
Our last stop was a winery where we tasted several local reds.  Some were quite good, and gave us an idea of what to look for on future wine lists.  After a short rest back at the hotel we went into town for a typical kebap dinner and the wine we'd discovered earlier.  Then it was time to try to get some sleep before waking up at 5 AM for the balloon ride!