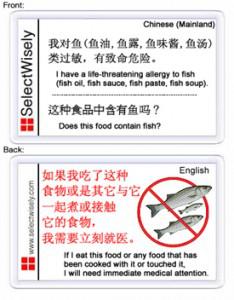 The number of people diagnosed with food allergies has exploded in recent years. There are now millions of people who have to be very careful about what they eat. Almost all of them are allergic to the same families of foods; eight foods – milk egg, peanut, tree nuts, fish, shellfish wheat and soy – are responsible for 90 percent of all food allergies.
The good news about that statistic is that people who suffer from food allergies have company. Which means that it's very possible that someone else has blazed a trail for you if you suffer from food allergies. So if you're smart about it, there's no reason that "food allergy" should be synonymous with "house arrest" when it comes to traveling.
Here are some tips for traveling safely and comfortably with food allergies:
• Know what you're talking about. You need to have at least a bit of an understanding of the native tongue so you don't mistakenly order the wrong thing. An English-to-whatever dictionary is very helpful. So are allergy-specific food cards. We've written before about the gluten-free food cards available at CeliacTravel.com. For other food allergies, we recommend checking out the wallet cards available at Select Wisely.
• Call the airline. If you are, for instance, allergic to nuts and worried about an international flight with peanuts as snacks, call the airline and let them know ahead of time. They may be able to offer you something else, or at least provide notice to the flight attendants so they can be aware of the allergy.
• BYOF – Bring your own food: You don't need to bring enough food for a week's worth of meals, but it's smart to pack some baggies of snacks, such as cut vegetables, apples or maybe gluten-free pretzels. These will at least get you through the flight. Pack some non-perishable foods (canned goods are probably best) that you aren't allergic to. And when you arrive at your destination, ask the concierge where the local supermarket is so that you can stock up on foods that are safe for you to eat.
• Check twice in restaurants. When eating out, it's difficult to know all the ingredients that go into the dish you're ordering. If you hand your food translation card to a waiter and they say "ok," insist that they show it to the chef. The chef knows what goes into a dish better than the wait staff. Be very careful of hors d'oeuvres – avoid them unless it is a plain piece of fruit or cheese. And it's best to avoid restaurants that specialize in a food you're allergic to – don't go to a seafood restaurant if you're allergic to shellfish.
• Take Benadryl with you. The single-serve doses are easy to take along, and often sufficient for helping you or your child if one of you eats the wrong thing. And if you have an epi-pen, you obviously should bring it with you in your travels.
For even more tips on how to successfully travel the world without an allergic reaction, check out the website of the Food Allergy & Anaphylactic Network. And here's one last piece of advice from Frommers that makes a lot of sense – if you get attentive service, tip generously so the waitperson knows you weren't just being a pain-in-the-neck tourist.