Just in time for the summer travel season, please welcome my guest blogger, Kendra Thornton: Travel advocate, TV spokesperson, PR businesswoman, proud wife and mama of 3.
From Kendra: I am a long time travel expert who has been packing my bags and traveling the world since I was 3 months old! I've found my utmost desire in life is right here in my own home. I have taken my excitement for travel and brought it to you with some of my favorite travel tips and tricks. Enjoy!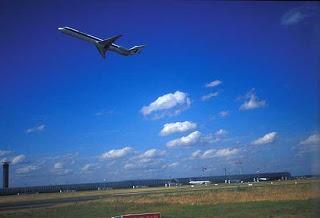 Traveling with children is always an adventure. But in order to make sure your next excursion is more of a success than a slump, you'll need to be prepared for anything.  Here are some tips I have found to help you plan and execute an amazing vacation without the hassle!
1.The Early Bird Catches the Deal
When planning that special vacation for the family, be sure to book your trip as soon as possible. The truth is that the cost of airplane tickets, hotel rooms and entertainment increase the closer it comes to your vacation date. Take the time and book those necessities now. If you are unsure where to stay, ask a family member, friend, travel agent or go online to get some answers. I recommend using other families as resources as they know what you're looking for and likewise what to avoid.  Sites like Gogobot allow you to seek advice from your personal network as well as other parents for lodging choices and insider family tips.  Even if you're traveling to a kid-friendly destination such as Walt Disney World, be sure to read through recommendations by other families to find your ideal Orlando hotel.
2.A Pool Plan
If you're like my family, a pool is essential when picking a hotel. But not all pools are created equal!  Check to see if your hotel has a lifeguard on duty at all times.  Slides and other water activities can also provide added entertainment for older children.  Prevent potential frustration by packing swimsuits on the top of your suitcase. It'll be much easier for you to unpack on your own time then to have little ones rummaging through your neatly organized suitcase while you're in line for check-in.
3.Planes and Motion Sickness
Air travel can be an excellent way to get you and your family to your vacation destination as soon as possible. But for little ones prone to motion sickness, it can be a nightmare. Combat this by following these four rules. 1. Get your child to a window seat. 2. Make sure your child has something to eat and drink before leaving the airport. 3. Make sure an air vent is pointing at your child all the time. 4. Consider consulting a pediatrician if the problem is persistent for a list of child-approved motion sickness remedies.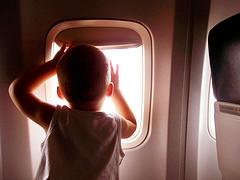 4. Boredom Prevention
Depending on the length of the flight, little passengers often become fidgety when having to sit still without diversions for long periods of time. A DVD player and favorite or perhaps new movie will fully engage the child's attention. Be sure to take plenty of DVDs along with your portable player if traveling overseas, as DVD compatibility codes usually differ from country to country.
5.A View for Fire that Works
The fourth of July is an amazing time where people around the United States celebrate the birth of our nation. And fireworks are one of the best ways to celebrate! If you're traveling this holiday, look into a hotel room that faces the fireworks. That way your family can see them from the comfort of your room without having to venture into the crowds. If your family has a baby, he or she can sleep while everyone watches from your balcony. (Editorial note: Whoops! I meant to get this posted before the 4th, but don't worry! This tip is useful  year round for any event involving fireworks!)
Thank you, Kendra!! Those travel tips will certainly come in handy for my crew in just a few weeks!