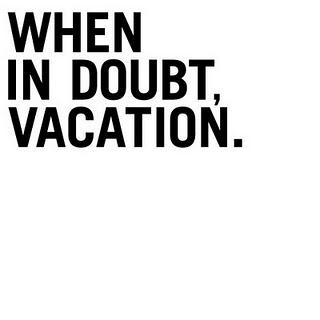 I found this sign on pinterest.  It's divine don't you think?  It was very "fitting" the other day when I found it.  It "fit" my mood. 
Alright, I'm going to be candid.  What's a girl do when she has unused vacation time?  And quite a bit I must add.  Oh, and she's on a "tight" budget.  Yep, that's me.  Sometimes, things don't go as planned and you have to deviate or I like to think take the "alternate" route.  Unfortunately, I won't be going to Europe this year, but it will happen next year, period.
I'm taking some vacation time and going to visit family and friends.  I used a combination of miles (US Airways) and a cheap one-way ticket on Southwest.  A pretty ingenious way to do it if you ask me.
In a few weeks I'm heading to Detroit to see my Dad and Step-Mom, and Chicago to see fabulous friends and family (yes, more family).  I'm a tad bit bummed that my step-sisters, Georgia and Katherine won't be there, but that's even better because I can have 2 more weekend adventures to visit them.  They both read my blog too so, they'll like that.  At least I hope they will!  I'm excited to see Brenna, Bill and Lily too.  I'm going to plan on seeing my cousin's new baby and all of my aunts and uncles.  I'll be a busy little bee, but it will be a ton of fun! 
So, the airline ticket(s) were under $100.  I'll be staying with family and friends, for free.  While with my Dad I won't need a car.  And while visiting Chicago I'll have a car to use if needed, but I most likely won't need it.  The free car use in Chicago is super great and not something I was expecting, but a super cool bonus!  This trip I hope to spend part of Friday downtown.  I'm going to try my best to hit at least one museum and walk along the lake front, Buckingham Fountain, see the skyline, etc.  Typically touristy things.  I definitely miss back home.  Yep, I'm originally from Chicago.  But, I'm not ready to give up life here in the Valley of the Sun (Phoenix, Arizona).  Nope.  Not ready.
A few travel tips for today:
Check the weather for my upcoming trip for packing purposes; utilize one bag and only 2 pairs of shoes.  Boots, a must.  And a sassy pair of flats.  Clothing...another blog post will cover this.
Check to see what transportation is available from Midway Airport downtown.  Let me clarify:  find the cheapest.
Check the museums for coat checks to see if I can "check" my suitcase.  I seriously don't want to "pull" it through the entire museum - unless, of course, I have to.
Check train schedule from Downtown to my final destination.
Almost forgot, this is V.I.P.!  Announce on FB pinterest.comof my upcoming trip to see who I can meet up with while downtown and in the burbs.  Drinks with friends in the city is always good and since I won't be driving (train) a nice glass of vino will be fabulous! 
These are my "quick" tips for today.  And ones that come to mind because of the trip I just booked last Friday evening.  More details to come.  Check back soon.  Have a wonderful Tuesday.

PS - This was suppose to post at 12:01 a.m. but Blogger decided otherwise and so, I am posting it now.  Enjoy!