There he was to greet me. A chesire cat smile painted on his face. I had arrived via a motorbike with a metal cage attached to the side of it. Looking outside of the van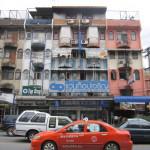 window, again, Omar would have seen me before I saw him. We had parted the day before for the second time. Omar and I met on a website called travbuddy. We formed an internet based friendship several weeks before arriving in Thailand, a place we were both visiting at similar times. It was I who recommended The Touch Cafe to Omar as a place for us to bunk and meet. From Bangkok we went north. Omar and Tami, another traveler who had joined us at The Touch Cafe, decided to keep going north. I was going south and so I left them in Chiang Mai and boarded a train to Koh Tao.
It didn't work out exactly as I had planned. Tami got sick and flew home to Taiwan. I'm going to fly to Koh Samui to meet you. I'll be there tomorrow. Omar had said that to me in an unexpected phone call that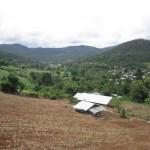 I received while in one of the neighboring islands of Koh Tao. He arrived while I ate dinner at a bamboo laden outdoor restaurant in Lamai. He had saw me first as I stood on the side of the road explaining where I was. Soon as I saw a figure with a bright white smile form in the darkness. We exchanged pleasantries. Omar told me of some of his adventure. I shared some of mine. After I introduced him to the bungalows I had arranged on the beach for close to free and then I took him to a reggae bar on the hill top and introduced him to Sebastian and Smodt. Smodt was a bamboo tattoo artist. Sebastian a German fighter. Both were my kind of people and there on the top of a small mountain in Koh Samui we exchanged stories in a smoke filled Rastafarian themed bamboo bar.
"He will stay and I will go." he explained to the small Thai man. The man and I hoisted my bag into the back of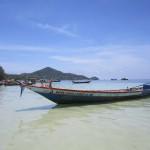 his vehicle and we began down the road. It was a week later and we had arrived by ferry to our last Koh anything, Koh Lanta. Omar, flying out four days before me, had to get on his way. His Thailand visa is expiring. It's his time to go. We said farewell and with a shut of a hatchback and the shut of a door Omar pulled away. It's interesting meeting people and then saying farewell to them and wondering if that was the last time you will ever see them. Life can be long, relatively anyway, or short. One can only wonder at these things. We had discussed it actually. The seeing each other again part. The same conversations shared time and again. The hopefulness and the faithfulness to it. Yes, we will see again. I don't know how and it doesn't formulate or make sense in any way to me now, but some how we will see each other again. One can only wonder at these things.
I looked up the weather. It was going to rain for the next few days in Koh Lanta. That was enough for me to head east to a town that I had learned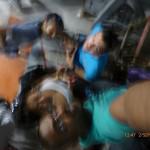 about from a Thai travel agent. I booked a minibus out of Koh Lanta. The next morning I laid on my bed realizing I had time to write an email. I didn't. I was 7 minutes late for the bus. I threw everything I owned together and rushed down the narrow stairwell. Turning around and around I stumbled onto the ground floor.
"Has a bus arrived yet?" It hadn't. The bus, like myself, was late. Within minutes a small motorcycle pulled up to the Lanta Guesthouse. I got into a metal cage. Ten minutes later I would see a friendly smile again. It wasn't for very long, just a couple hours, but we had scheduled the same bus to go in the same direction. He would continue on to Penang, Malaysia. It looks like we did see each other again after all. Funny things happen in life. Probably daily. I think we fail to recognize a lot of those things in life. Too busy to even see them, but sometimes we catch a glimpse, and you can only wonder at those things.