This is vacations time and I am travelling to Darjeeling and Gangtok with family. I did my bit of research while flying to this sector, and am sure this post will help fellow travellers in planning their itinerary and short-listing their eating out venues.
How to Reach?
To reach Darjeeling/Gangtok, one will need to catch flight or train to Bagdogra. We decide to go to Darjeeling first. Our flight is on time and we take a pre-paid taxi from Bagdogra from a counter run by West Bengal government (Rs 1765 for non a/c car, 2170 for A/c Tavera). Few may like to negotiate rates on their own from the returning taxi which come to drop passengers, and obviously they have no rates and will charge much less.
I must say, West Bengal government has not done a great job on roads. The 4 hour journey is tiring in the absence of good roads on few stretches. By the time we reach it is all cloudy and dark with a little drizzle.
Eating Out:
Few things that need to be remembered while eating out in Darjeeling – It offers freshest food, hence the waiting time will be more than other places, and even though most restaurants shut down by 7pm, their stuff may get over by 5pm itself. So plan accordingly. Momos, Chowmien, Tea, Maggi are some of things which are available at every other shop. Places to look out for: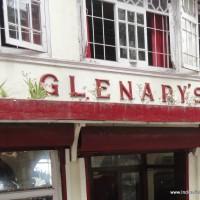 Glenary's: There is something about hills, most places have great bakery. Same is the case with Darjeeling. Glenary's is an excellent bakery at Mall Road, but most road side shops offer good stuff too. Cakes which aren't overly sweet and taste fresh, Brownie which doesn't need heating or require any chocolate sauce, and patties which taste as good even after hours in the packet. All that at a price which is a dream for anyone living in a metro.
Address: Nehru Road. Darjeeling | Phone: 0354-2258408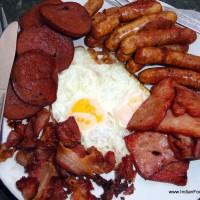 Kaventer's: I have my breakfast at Kaventer's which is over a 100 year old cafe and offers some amazing view from the terrace and gives some much needed sunshine too. The huge meat platter (220) with pork sausages, meat loaf, and bacon along with sunny side up omelette is more than sufficient for two people. All products are locally made and offer an amazing value. However, I have had better sausages. Most shakes are unavailable except the chocolate (Rs26) flavour, and we love it. Simple cheese sandwich, cheese burger, and baked beans are other good options for vegetarians.
Address: 9, Nehru Road, Darjeeling | Phone: 0354-2254026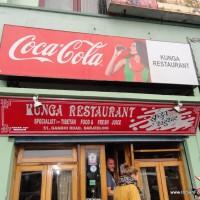 Kungwa: Serving Tibetan and Continental, it is a popular joint among tourist. I try to get some of the stuff packed due to time constraints but there aren't many options for packing except Momos, Chowmien etc which are commonly available. The elderly couple running the outlet are polite and suggest we come back with sufficient time in hand.
Address: 51, Gandhi Road, Darjeeling | Phone: 0354-2253971
Places of Tourist Interest:
Toy Train: Oldest narrow gauge train which runs at a speed where one can get down, buy something from the nearby shop and get on the train again. Initially it was run only on steam engines, which are now only being used for joy rides.
Cable Car: Longest cable car in Asia offering breath taking view of tea gardens
Mall Road: Some of the best eating out places in the city and to buy souvenirs and other shopping.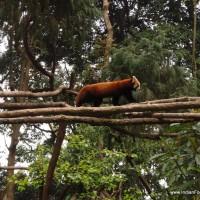 Himalayan Zoological Park & Himalayan Mountaineering Institute: Beautifully maintained zoological park which has many animals and birds including Red Panda. HMI is also in the same complex and has a collection of equipments used for mountaineering.
Japanese Temple & Peace Pagoda: Both the places are in same complex. Lovely view of Buddha in different postures.
Nepal Border: You can enter Nepal by showing your ID card. Cab will take Rs200 for to and fro trip to the shops where you can buy imported goods. The prices are negotiable. Do not buy electronic items and too much cosmetics which can be detained at custom. You can buy clothes and bags.
Mirik Lake: A man-made lake where one can enjoy boating.
Places to Stay
There are many options to stay at Darjeeling. We decided to stay at Sterling Resort, Ghoom which is 8km's ahead and 1000mtrs above Darjeeling. It has many types of rooms from Single, Twin, Villa and cottages to choose from. We found the rooms comfortable and service efficient. It has kids room and activity room to keep one occupied within the complex, and offers some breath taking view of Kanchenjunga Mountains on a good sunny day.
Plan your Itinerary:
We were in Darjeeling for only 3 days, of which one day was used in travelling. To make the best use of our balance 2 days, this is how our itinerary looked like:
Day 2:
-   Took Toy train from Ghoom station to Darjeeling. Local train reaches Ghoom station at 9am and if there are seats tickets are sold to passengers. It is advisable to pre-book the ticket on net. First class ticket cost Rs105 and takes 30min to reach Darjeeling.
-   Some 10-15min walk from Darjeeling station will make one reach Mall Road. Have breakfast at Kaventer's
-   Enjoy walk at mall Road. Kids can enjoy horse riding while you can shop for souvenirs.
-    Took a taxi from Mall Road and covered the following: Cable car, Zoological Park, HMI, Tea Gardens, Japanese Temple and Peace Pagoda, and a drop at Ghoom. Cost Rs1200 for this trip.
Day 3:
-   Day 3 was relaxed compared to Day 2. We did an out of city tour covering Mirik Lake and Nepali border. Cost Rs1600 in a SUV.
Day 4:
-   We left for Gangtok in a Bolero for another 4 hour journey. Cost Rs2000 in a SUV
What to buy from Darjeeling?
Buy Darjeeling Tea leaves, pickles, and small souvenirs.