I get really excited when I'm due to go on holiday so I really need to find things that will keep me busy whilst I'm waiting on the time coming round.  Being an over organiser and a self confessed Fashion addict, I try to make myself fashion wishlists.
I pick one fashion retailer and go through and pick the items I really want for going away. I make a gallery with around 6 items before moving onto another one of my favorite retailers and doing the same thing. At the end, I go through and narrow each one down and then pick my 'dream wardrobe'.
I thought I would show you my wishlist from JD Williams.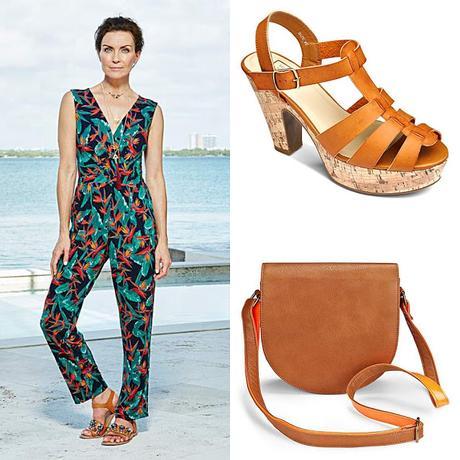 So this jumpsuit is LIFE. Yes, I am 29, yes, I do still talk like a 19 year old. SMH.  I love how the jumpsuit is full of color without being too 'busy'. I also love the contrast of the turquoise and the orange colours - not usually two colours I would team together but it works brilliantly.
I would team this with these gorgeous tan and cork sandals in an EEE fitting (perfect for anyone like me whose feet swell in the heat!). These have a decent heel without being too much so I reckon they will be practical for wandering around, particularly in the evening when you invariably won't walk as much as through the day.
I would team the outfit with this gorgeous bag which has a pop of orange at the sides. It matches in perfectly with the jumpsuit and the shoes. I would maybe wear my hair half up half down with a top knot, add some layered necklaces, a cuff bracelet and a coral lip. Swish!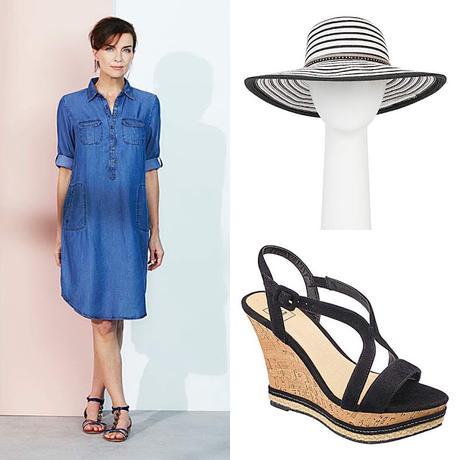 The next outfit from JD Williams includes this denim dress. Anyone who knows me knows that denim isn't normally my thang. I have only ever had three pairs of jeans that fit me well in my entire life so I've never really been overly enthused but I saw this denim dress from JD Williams and I'm obsessed. I could easily dress it up or dress it down for pretty much every occasion. It's multi seasonal too, I could rock it with boots and a jacket during Autumn or with chunk tights, a wide belt and ankle boots during winter.
Now that it's summer though, I will wear this with flat sandals, a tan belt and fashion jewelry for informal beach strolling days but for more formal city wandering, I would wear this with a wide brimmed hat and wedges. I love a floppy hat when I'm on holiday. I like to wear a low bun in my hair, a bold lip and oversized sunglasses to make myself look a bit more posh haha!
The shoes are my 'ideal' shoes. I love a good wedge and I love the fact that these have strap detailing without being too fussy or too casual (and again are available in EEE width fitting!). I think these would go with pretty much anything whether you're on holiday or back in sunny old Scotland!
What do you think of my wishlist? I'm trying to streamline how many things I take with me so that I can go shopping when I'm there! (I'm going to Toronto & Niagara Falls - I've been three times before but it never gets old! I love it!)
Let me know below which pieces are making their way onto your fashion wishlist and feel free to leave links to yours! I love seeing them!
H x


*Includes Collaborative Content.