On Earth Day, I had the great pleasure of participating in my local community's annual swap/reuse/recycle event, Trash-2-Treasure.  I joined the planning team this year as a recycling consultant providing recycling information to the community.
My muscles were sore, feet ached and I honestly needed a full week to just.do.nothing.  But I have to say, my heart was filled with such joy to see the community come out and see how big of an impact the event had on those who attended.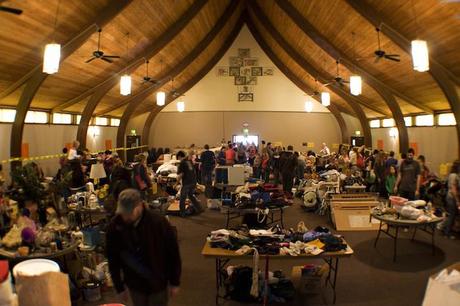 What is Trash-2-Treasure?
Trash-2-Treasure is an annual swap/cleanup/recycle event whose mission is to reduce the carbon footprint and build community.  The event is organized by Swap-n-Play, a cooperative community sharing space in North Portland for families to build intentional community through play and the sharing of resources such as toys, clothing, household goods, skills and knowledge while rethinking and reducing our relationship to consumerism and waste.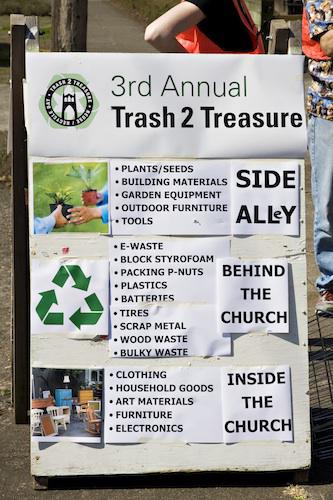 What is a Swap?
Swaps come in many shapes and sizes, this particular one happened to be the size of an entire church – inside and out.  They're typically done on the honor system, as long as you bring something, you can take something.  However, in the case of Trash-2-Treasure, we had so much stuff, that no one was turned away.  Items accepted included:
Clothes
Media: books, videos, DVDs, VHS
Toys
Household Items
Electronics
Furniture
Re-Usable Building Materials
Plants/Seeds
Crafts

Reduce/Reuse/Recycle
We also accepted many items for recycling in addition to providing educational materials to the community on where to take recyclables such as CFLs, block Styrofoam and household hazardous waste.  Items accepted included:
Block Styrofoam
Packing peanuts
Rigid and Soft plastics
Metals
Tires
Electronics (except microwaves)
Electronic waste such as computers
Athletic Shoes
Un-usable clothing items (12×12″ minimum)

Community Impact
I spoke with several people throughout the event and heard, first hand, stories as to why events like these are important for the community.  One lady mentioned to me she was unemployed and this was the only means available for her to get clothing and other household items, for free.
A huge sectional made its way into the church and within an hour, a young teenager had found someone with a truck who also lived in his neighborhood to help him transport it home – a complete stranger!  You can't get that kind of service at your local department store!
I saw families leave with bags and bags full of goodies they had found, some spending hours sorting through all the piles.  Trust me, it was worth it.  I, myself, found some great finds!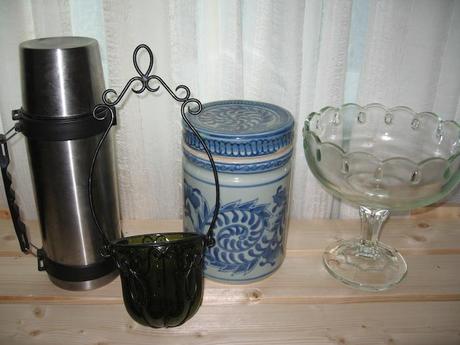 Some of my personal finds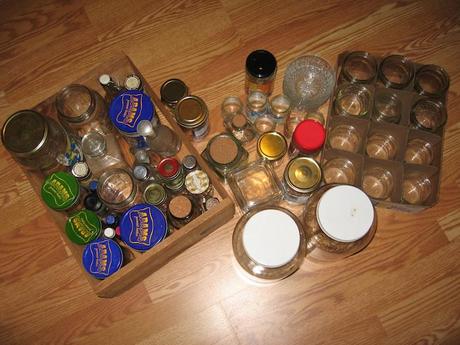 New glassware to add to my collection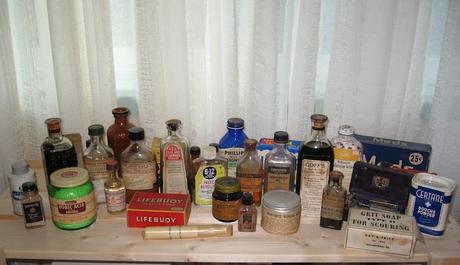 My most interesting find of the day, an entire box full of vintage personal care products!
The Numbers
Nothing shows more how the event has grown than this chart.  We knew we had more things after the end of the collection Friday evening.  These numbers speak for themselves:
2010 2011
Items found their way into the hands of local residents 4,227 2,400
Number of people attended 600 170
Plastic recycled (cubic yards) 24 14
Block Styrofoam recycled (cubic yards) 12 2
Landfilled materials (cubic yards) 60 7
Batteries recycled (cubic yards) 5 10
Shoes recycled (cubic yards) 50 200
Wood recycled (cubic yards) 10 20
On average, most community cleanup events collect approximately 400 cubic yards of landfilled materials.  Talk about a huge impact!!
Have you attended a community swap event like this?  If so, what was your impression?  Would you be interested in starting something similar in your neighborhood?