With plastic in nearly everything, it's nearly impossible to avoid it completely.  There are, however, things you can do to avoid exposure to plastics.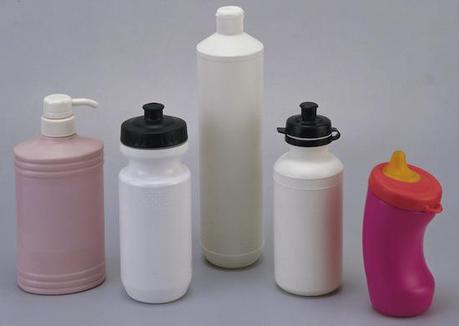 Opt for Glass or Ceramic: Use alternatives to plastic packaging whenever possible.  Bring your own containers to shop and for take-out.  Store food and water in glass or ceramic containers, or in safer plastics #2, #4, or #5.
Zap Savvy: Microwave foods in glass or ceramic containers that are free of metallic paint.  Use another container such as a plate to cover food.
Fresh or Frozen: Choose fresh or frozen foods in glass containers or bottles.  The coating on the inside of metal cans contains bisphenol A, so minimize use of canned foods and drinks.
Be Cool: If you do use plastic water bottles, do not use them for warm or hot liquids.  Replace them when they get scratched, cracked, or cloudy.  The thin, #1 and #2 water bottles are designed for single use.  This is one example that reuse is not the best option.
Clean Green: Clean plastics gently.  Avoid harsh detergents or abrasive cleaners that can abrade or etch plastics.  If you do use plastic and clean them in the dishwasher, always wash them in the top shelf.  For safer cleaning alternatives, check out our entire line of great green cleaning products including our Enzyme Cleaners.
Smell Well: Use fragrance-free products for laundry, cleaning, personal care, and air fresheners.  These contain phthalates.  Even fragrance-free products may contain so-called masking fragrances.  Be sure to always read the label.  If one isn't provided, skip buying the product.
Breast is Best: When you aren't able to breastfeed, use glass baby bottles.
Zip the Sip: When your baby graduates to sippy cups and plastic dishes, use wares made from #2, #4, or #5 plastics.  Some children are able to skip the sippy stage completely.
Nix the PVC: Avoid PVC (#3).  Use phthalate-free medical supplies where available.  Avoid vinyl toys and clothing, which also contain phthalate.  PVCs contribute toxic dioxins to the environment in the manufacturing process and after disposal.
The Bottom Line: Plastics #2 (HDPE), #4 (LDPE) and #5 (PP) are safer plastics.  Avoid #3 (PVC – contains phthalates), #6 (PS – leached styrene is a neurotoxin); and #7 (OTHER – contains bisphenol A) except new bio-based plastics labeled as such.  There are a few studies that indicate caution about #1 (PETE) so try to avoid it if you can.
{image source: find me a cure}