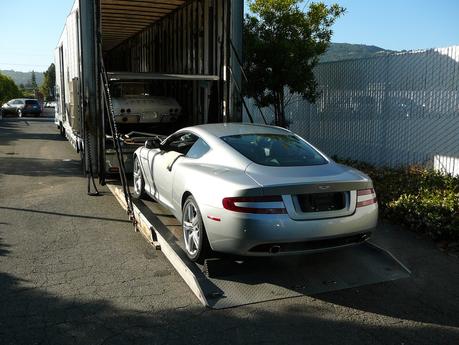 When you are shifting your residence from one place to another, moving your car to the destination may not always be simple. If you do not want to drive your ride and save the expenses on its gas, here are few options that you can try:
Tow Dolly
A tow dolly is simply a trailer that can be towed behind a truck. It lifts up only the two anterior wheels of the vehicle being towed, while the back wheels are allowed to roll on the road. Straps and chains are wrapped around the tires for securing the car and preventing it from sliding off. One primary advantage of using a tow dolly is that it is very cheap and would not affect the budget of the relocation. On the other hand, it can be used for short moves, otherwise the back tires may suffer from wear and tear.
Auto Transport Trailer
A typical auto transport trailer is designed particularly for keeping cars entirely off the road while they are being transported. The posterior part of the trailer has two ramps which are used for driving up the car into the trailer. Once the automobile has been moved inside, it is secured using chains and straps. Auto transport trailers are ideal if you are moving between cities or towns.
Inside Truck Relocation
If the car that you own is small in size, it can be possibly fitted inside a truck rented from any furniture transport services in Albany. The car can be driven into the truck using a ramp, and then strapped to prevent it from lurching when the truck halts or takes turns. There are two benefits of using the option of inside truck relocation - you can pack some
Towing Service
There are a large number of trailer haulers who transport cars and deliver them to residences and dealerships almost everyday. You can easily hire one and ask them to pick your car up and drop it at the destination. All that you need to do is pay a small fee and be present at the receiving end when the trailer arrives.