Tiger Sweater and Tiger Sweatshirts
Have you seen this trend in the stores? Spring is all about the tiger!  From printed or embroidered tiger faces on sweatshirts to tiger striped sweaters, the fashion world is going crazy for these big, majestic cats.
As you may know I'm doing a 100 day shopping ban (I've written about it here), but I wanted to show that I can still dress for the season even with things that I've bought a while ago.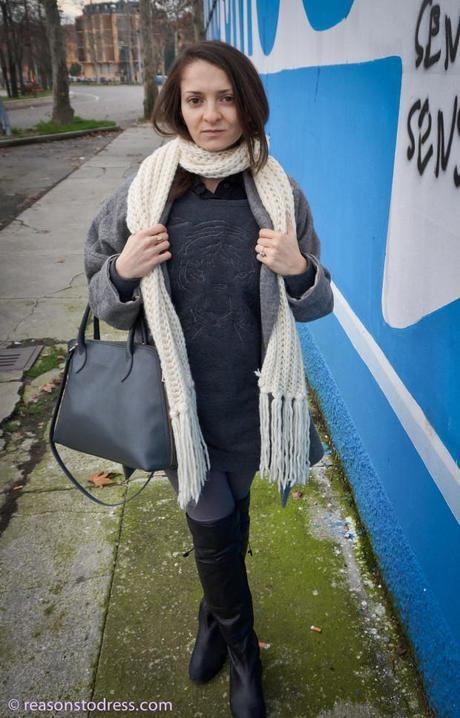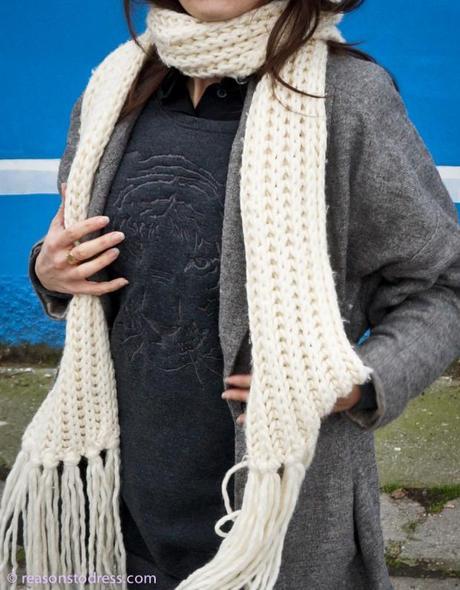 This tiger sweatershirt was bought at an Italian discount store for under 7 euro on super discount sale a few months ago.  Part of my Fashion Philosophy is to spend good money on things that will last (shoes, bags, coats) and as little as possible on "trends".
I love this sweater but after two months of wear it is already starting to pile…which strangely….. I love even more! I've written about how "destroyed" is the new lux here.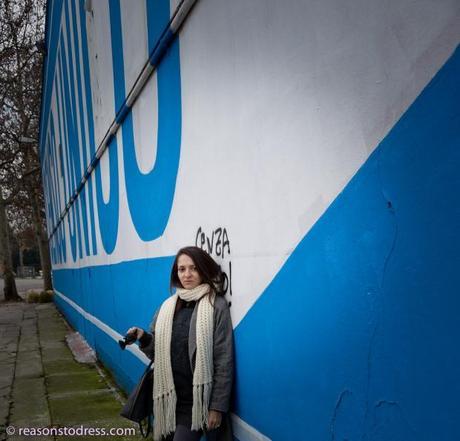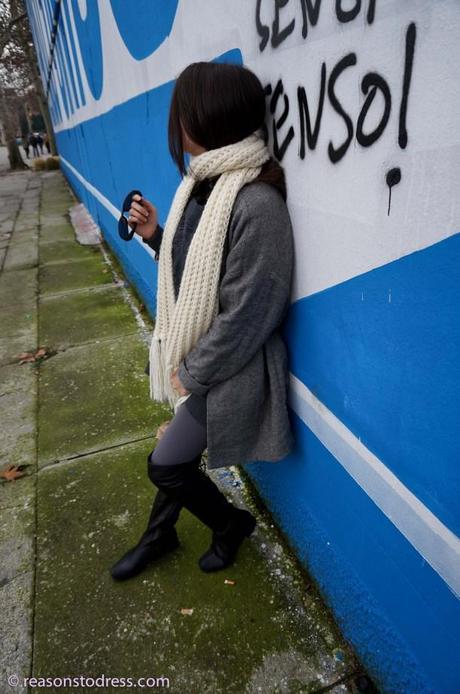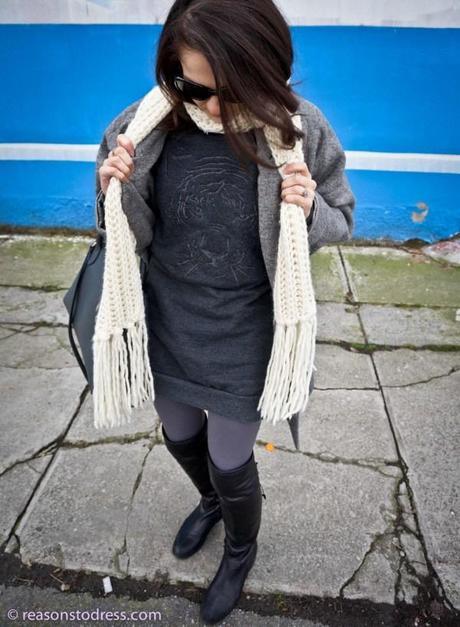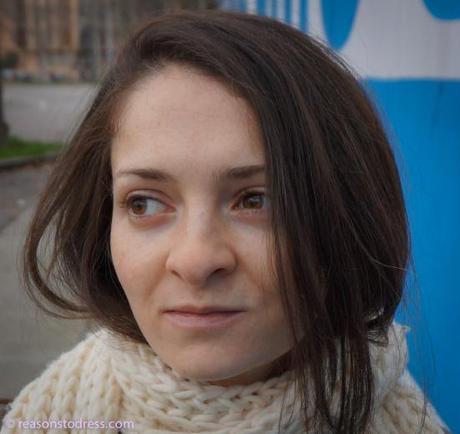 Scarf over Hair
I noticed a few months ago that all of the major fashion bloggers and buyers that were being photographed for winter street style pictures had their scarves over their hair, like this lady photographed during NYFW.  And I figured if they can do it, so can I!  I really like the way it looks, I find it to be much more flattering than having my hair on top of the scar and in the Spring it's kinda cool to wear a big scarf with a top and jeans without a coat as a transitional look.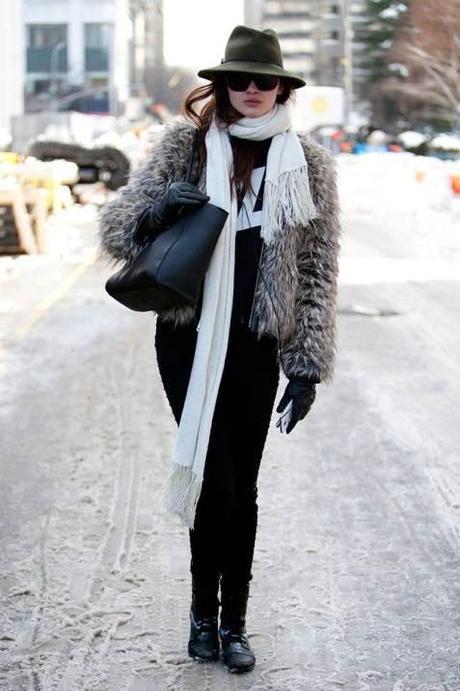 Chantal Adair NYCStreetFile.com – found on Elle.com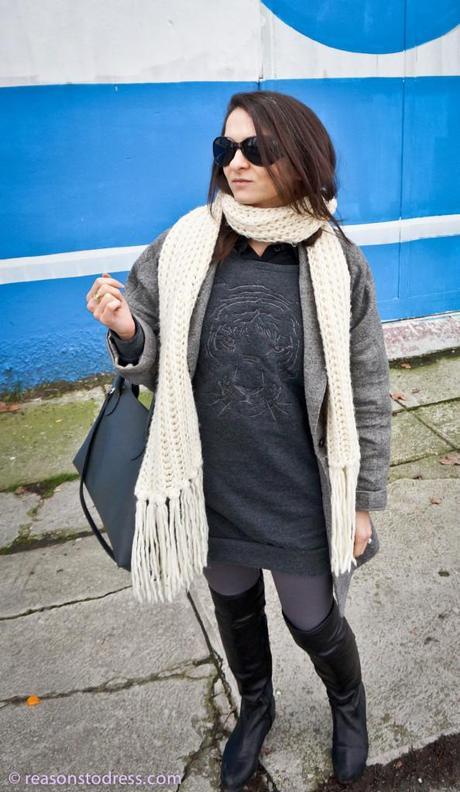 This was my first attempt at trying to do "Fashion Blogger" style photos.  I felt a little silly I will admit it, but I'm not going to deny that it was FUN!  If you are a fashion blogger but you don't take yourself too seriously and have a good sense of humor, I HIGHLY RECOMMEND reading the article "How to Become a Fashion Blogger – Bag Edition" from JaderBomb.com, seriously hilarious.
The other Tiger Sweater that I bought a few months ago but have worn NON-STOP is this one from another discount Italian brand.  I also found it on sale for a ridiculously low price.  This picture is from my Instagram, if you follow me, you may have seen it.  I will be featuring it in another post soon.
Tigers in the Luxury World
All things Tiger is actually a trend that you will predominately find the luxury "off the beaten path" brands doing, such as Kenzo and Diane Von Furstenburg.  Here are the luxury label versions of both the tiger stripe trend and tiger face and my favorite  copy-cat  alternatives for the budget conscious.
Designer Tiger Stripes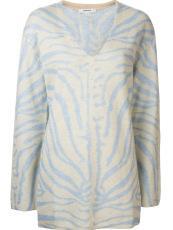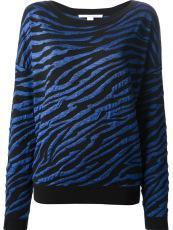 L to R…BERNHARD WILLHELM –  $714 / CARVEN – $524 / DIANE VON FURSTENBERG – $452
Designer Tiger Face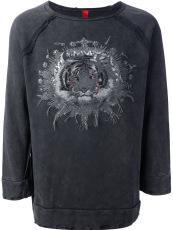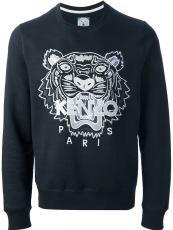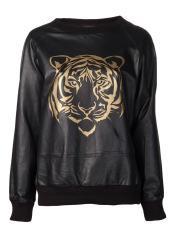 L to R BLOOD CONCEPT SHOTS – $330 / KENZO – $282 / LOVE LEATHER – $950
"Is that Real?" Tiger Trend
And these are my favorite options (every single one of them is under $25!) if you love the look but also have to do boring things like eat, live somewhere and possibly raise another person! They were all found here (this store ships for free over $50).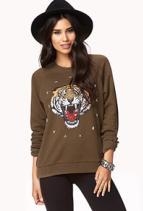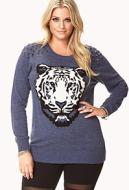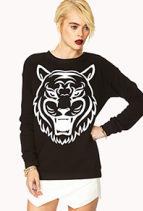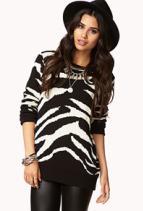 I wore my Tiger Face Sweatshirt to the big box hardware store, which I've written about here.
Have you bought yourself a big cat top this season?
Did you enter the giveaway for $500 in Visa giftcard cash yet?  You Should!!!



Follow Reasons to Dress through Bloglovin' & get 1 email a day with all the most recent posts from the blogs you love.
Fashion link-ups!
Every week I try to link-up my style posts with these fashionable ladies. Visit their sites for some inspiration & to discover new bloggers!