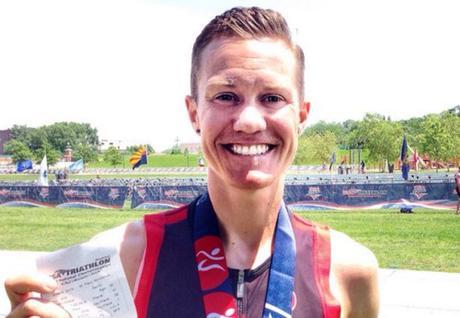 Chris Mosier
From Wikipedia:
In 2015 Mosier earned a spot on the Team USA sprint dauthlon men's team for the 2016 World Championship, making him the first known out trans athlete to join a U.S. national team that matched his gender identity, rather than the gender he was born as. Mosier began competing in triathlon in 2009 as female. In 2010, Mosier publicly self-identified as a transgender man.
Chris Mosier struggled with gender identity at a young age. He knew at the age of four years that his gender identity and biological sex did not match. He began his transition in 2010 when he legally changed his name, and then began to receive testosterone injections. By making this transition, Chris gave up his top ranking in the women's category, but the reward was far greater. Since transitioning, Chris has received overwhelmingly positive receptions from fellow athletes. Chris spoke about his experience with Chicago GoPride, saying, "Competing as a woman, I thought about gender all the time, to a point where it interfered with my ability to be successful because I didn't feel comfortable at races. Now, I feel more able to focus and gender doesn't come up as much."
From People Magazine: Chris Mosier made history in 2015 when he earned a spot on the Team USA sprint duathlon men's team for the 2016 World Championship – becoming the first out transgender athlete to qualify for a U.S. national team. Now the 35-year-old duathlete is making history again, as the first transgender athlete to appear in ESPN Magazine's annual Body Issue. "I felt so inspired to do it [because] I'm finally at a place where I feel very comfortable with my body," Mosier said, adding that he wanted to be in the Body Issue for more than a year after shying away from photos for nearly 29 years. "As a trans person, being in a body that didn't really fit me for 29 years, now I feel very comfortable in my own skin."
ESPN Photo
Mosier said he got into sports before his transition as a way to feel connected to his body. "I would use fitness and running and lifting weights as a way to feel more comfortable in my skin, even though I didn't feel very connected to my body," he explained. "So I could lift weights or run and slim down a little bit or gain muscle in different places and feel a little more masculine or a little more comfortable in my body." Growing up, Mosier felt frustrated when his body didn't evolve the way he envisioned it as a young child. "I thought I would grow up to have a six-pack and a flat chest and be a little muscle dude," he said. "When that didn't happen, I felt very betrayed by my body." But he also says his past struggles motivate him.  "In those moments where I feel like I'm suffering in the race, I pull it back to the bigger perspective of being a trans person. And by comparison, I feel like this moment – racing, running, whatever – is quite easy," Mosier continued.  "I think, 'I can do anything for a minute. Let's just push a little harder.' " In 2014, Mosier founded transathlete.com – a resource for students, athletes, coaches and administrators looking for information about trans inclusion in athletics – after being turned down by potential coaches early in his career. "It didn't really surprise me," he said of the dismissal. "I have flat-out had companies say, 'We can't have someone like you represent our company.' And while they're not saying what 'someone like me' is, they're sending a pretty clear message." It's comments like those that remind the 5-foot-9-inch athlete of the importance of his history-making spot on Team USA. "That feeling, of being able to represent the country as an athlete and as a person with a trans identity, is really important for me," Mosier reflected. "It feels like a really big moment for me in my athletic career, and I know it's a big moment for trans inclusion in athletics." "It's important for people to see me as a representative of Team USA, because I think it represents the direction that we should go in," he added.
Part of that new direction has already been paved. In 2015, Mosier challenged previous International Olympic Committee policies which said transgender athletes were required to undergo genital reassignment surgery before playing. The IOC's adjusted policy now allows female-to-male transgender athletes compete immediately, while male-to-female transgender athletes must show a certain testosterone level for at least a year before playing. "I've been very focused on that positive piece of change," Mosier said, adding that the changing policy will allow young trans youth to know they have a place in the sports world. "While we won't have a trans Olympian this year – that we know of – in the future, in my lifetime, I believe there will be one, because there's some young kid out there falling in love with sport."
DCG