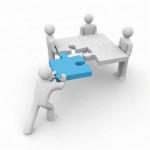 Every company is under pressure to lower costs and increase profitability. Each year, organizations devise new initiatives to cut costs and boost productivity. However, areas that are often overlooked include the procurement to payment processes. These processes support the purchase of direct goods (i.e. cost of goods sold) and indirect goods (i.e. office supplies, computers, etc.).  Transforming these processes to perform detailed spend analysis, enhanced vendor negotiation, vendor performance score-carding and electronic payment processing provides efficiencies that translate directly to the bottom line.
On average, 60% of every revenue dollar in an organization is spent procuring direct and indirect goods and services.  As a result, procurement exerts far greater leverage on earnings than other areas in the organization as a 5% reduction in procurement spend will result in a 3% increase in profit.  Improved process automation can also have a dramatic impact to the organization.  For example, typical labor costs to process an invoice can vary from well over $10 per invoice for organizations to under $2 per invoice for best in class organizations.
Litcom can assist you in developing the business opportunity as well as executing the transformation of your procurement to payment functions. In addition we can provide end to end support to our clients in transforming their organizations.  This includes both advisory and implementation services.
Advisory Services –  Litcom provides an external perspective, based in subject matter expertise, in helping shape and confirm your strategy.  Advisory Services include business case development, change management and software evaluation and selection.
Successful (and sustaining) initiatives start with a well-defined and easily defendable, and achievable business case.
Implementing new systems and strategies has a direct impact on your organization's staff. At Litcom, we believe having an intentional and structured approach to addressing the impact to people is critical to success and long-term adoption.
While there are numerous software providers that support procurement to payment processes, Litcom has conducted recent software vendor evaluations to assist our customers in strategically selecting a procurement to payment technology footprint.
Transformation Services – The transformation of procurement and payment organizations includes changing the behaviors of an organization in the acquisition of suppliers, goods and services that is supported by a scalable technology infrastructure to ensure maximum value.
Moving your organization from the current state to the future vision requires precision.  Litcom has a proven, systematic approach to assisting you in developing that vision, creating the plan and executing that plan under carefully defined success criteria.
Effectively leveraging your technology partners is critical to the successful implementation of the future vision.  Litcom has successfully implemented numerous third-party software solutions that support procurement to payment processes.
Please contact us at [email protected]  to see how we can assist you in strategically selecting a procurement to payment technology as well as executing the tranformation of your procurement to payment functions.