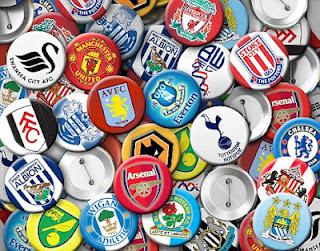 TRANSFER LATEST - official and unofficial

City
: So far there have been no new signings for big spending club, title winners City. However there has been interest and rumours circulating around controversial striker and Euro runner up Italian Ballotelli, as Andrea Pirlo urges Juventus to push the boat out for the striker. Also, Mancini's interest in Napoli's Cavani may prove unfruitful, as the manager tells the two blue teams Chelsea and City to forget their hopes of luring the striker away.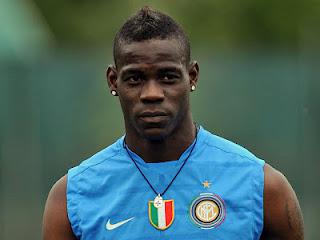 Will he stay or will he go?

United
: So, the latest on June 7th is that veteran midfielder Ji Sung Park is on his way out of Old Trafford, headed south to join QPR on a three year contract. He will be undergoing a medical on Monday 9th June, and the fee is said to be less than the initial five million expected, around £2 million, with an extra £2.5 mill headed Ferguson's way should QPR avoid relegation. This is the second signing Loftus Road have poached from the Red Devils, after full-back Fabio was loaned out on a season long loan to the club. Ferguson seems desperate to spark new life into his dethroned team, as he makes a bid for Portugal midfielder Joao Moutinho and continues to show interest in Brazil midfielder Lucas Mour. Benfica's Axel Witsel also interests the Scottish manager, and with the club reportedly interested in United's Anderson, who knows what may happen - although United will have to fend off Chelsea and Real Madrid if the Red Giants are to secure the midfielder's signature. With hopeful youngster Nick Powell and promising signing Shinji Kagawa, the future looks promising for the reds. However, the amount of youngsters, an age-group known to be fortuitous under Ferguson's reign, leaving the club in search of higher wages is disconcerting, considering the manager's philosophy of bringing in the youth and training them up. Yet, it is no secret that the club has been near paralysed by the Glazer's debt, reportedly around 420 million, with plans to sell shares in Singapore to help the debt, has crippled Ferguson's options in the transfer market, limiting his expenditure to a fraction of what is available at rival clubs Chelsea and City. In year's past the United name, reputation and successes has been enough to pull in talent worldwide and locally, attracting promising youths. However, with big bucks being offered to impressionable youngsters, the times may be a-changing. Hopefully, with a few more signings and perhaps more offloading the team will be revitalised, and come back to reclaim their title in the forthcoming season.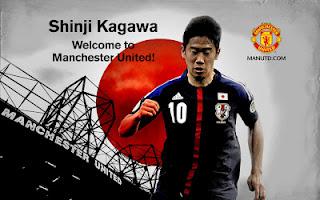 Kagawa predicted as a hit for United
Arsenal
: Who cares about Batman, all the talk is about Robin - just where will want-a-way striker RVP end up? In conversations with his family, his father reported that the striker wouldn't want to go to La Liga winners Real Madrid because they have Ronaldo, Barcelona are apparently not a team but a collection of individual super stars and he does not feel he will fit in there, and he couldn't possibly contemplate Premier League winners City, as he feels after the service he has done at Arsenal, he couldn't leave to join one of his club's rivals - Arsenal will always remain in his heart, the lad just wants to win trophies, and who wouldn't if you were a man of his ability? But this is all speculation i read in a report a few months ago. However, the current rumours are that the superstar will end up at Juventus, and should the star leave, his departure may spark many others, as Arsenal players realize their discontent at remaining trophy-less. Chelsea are reportedly interested in Arsenal's Walcott, and with the winger's contract expiring next summer, Wenger will have to work hard next season to content his restless players, and effectively work Giroud and Podoloski into the fold.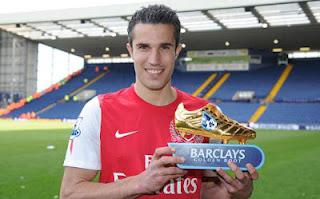 RVP will be pulled this way and that as clubs hope to obtain his Golden foot
Spurs
: Tottenham have yet to add any new signings to the team, with new coach Andres Villas Boas heading the proceedings. Villas Boas hopes to poach 'unsettled' Chelsea striker Daniel Sturridge, and has made an £11 million bid for Brazilian midfileder Oscar, as the new coach hopes to spark a revolution at White Hart Lane. The new boss is also mulling over a move for Lyon goalkeeper Hugo Lloris, who could become 41 year-old current Spurs goalie Friedel's replacement. The club are also contemplating the return of Lassana Diarra to the Premier League after it was reported he can now leave Real Madrid.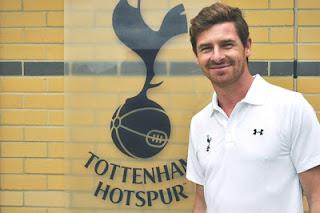 Harry out, Andres in - let's hope he's a good fit for Spurs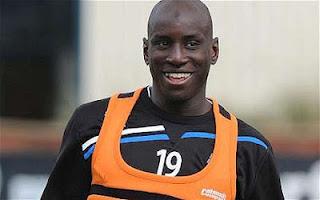 Demba Ba should be smiling with all the interest for him
Newcastle
: The fifth placed Toons have also been shopping, bagging Reims midfielder Romain Amalfitano and are reportedly close to signing Coventry's teenage midfielder Gael Bigiriman. They may also snatch Lille right-back Mathieu Debuchy unless Inter Milan, who are also vying for the defender's signature, hijack the proceedings. However, after the departure of Guthrie to Reading, ex team-mate Danny Simpson may follow in his footsteps. Pardew's main worry at the moment though, should be holding on to talent striker Ba.
Chelsea
: Champion's League winners Chelsea have also been offloading, as Saloman Kalou has been released from the club, reportedly heading to French outfit Lille on a four year contract. The player seemed to have been frozen out under young and vibrant coach Andres Villas Boas, but appeared to fight back into first team action under then interim-coach Di Matteo. However, the striker-cum-winger was always going to be released at the end of his contract, with Di Matteo vying to bring a new lease of life into the club. Perhaps this philosophy, combined with the sighting of long-serving Lampard at LA Galaxy with friend Beckham, has sported rumours that the Chelsea midfielder will shortly be on his way out of Stamford Bridge...But with two signings at Chelsea already, especially much sought after Hazard and potentially a bid on promising young talent Victor Moses, if Lampard was to go he may not be missed.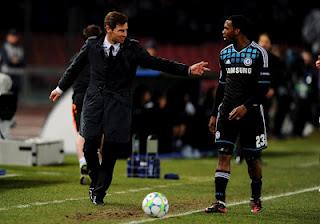 AVB will raid his old club in the hopes Sturridge joins hims at Spurs
Liverpool
: Struggling Liverpool could become revitalised under new manager Brendan Rogers, who worked a treat for newly promoted Swansea in their last campaign, as they finished a respectable 11th. The reds have yet to make a signing, but have said goodbye to Kuyt and Aurellio. They may consider a late swoop for Newcastle hit Demba Ba for £7 million due to a clause in the striker's contract, but the new manager may find it hard to fend off interest for unsettled striker Caroll, and controversial but excellent player Luis Suarez.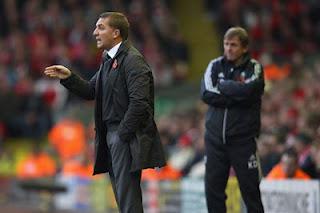 Brendan Rogers Takes Over Liverpool Legend Dalglish
With both current Premier League players and other international super stars yet to finalise contract deals, the summer transfers could hold even more surprises in store - so check back for future updates.