The Special One and seemingly the Greatest One: Ferguson and Mourinho go head to head in the second leg of the Champions League round of 16 to determine which giant of the football world will progress to the quarter finals.
These are two of the greatest managers in the modern game, and it is hard to choose between them.  T
heir victories combined is astounding, with four UEFA Champions League trophies and over 20 domestic titles to their names.
However, of the 17 trophies The Special One has collected during his time with six clubs, including Chelsea and Real Madrid, Ferguson has won just as many with United in Premier League and FA cup titles, with many other trophies in his cabinet.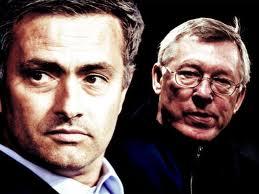 Yet it seems almost futile comparing them, as not only are they two completely different managers, with their own techniques, style and flair, but their careers have been on opposite ends of the spectrum considering Ferguson's prolific reign at Manchester United and Mourinho's nomadic approach as he drifts from one club to another, albeit always finding success.
Although Ferguson is arguably regarded as more successful, when assessing their head to heads over the years, the statistics tell a slightly different story.  
WHO WHEN COMPETITION FINAL SCORE WHO CAME OUT ON TOP
Porto vManchester United February 25, 2004
Champions League Round of 16: First Leg 2-1 Mourinho
Manchester UnitedvPorto March 9, 2004 Champions League Round of 16: Second Leg 1-1 DRAW
ChelseavManchester United August 15, 2004 Premier League 1-0 Mourinho
ChelseavManchester United January 12, 2005 Carling Cup Semi final: First Leg 0-0 DRAW
Manchester UnitedvChelsea January 26, 2005 Carling Cup Semi final: Second Leg 1-2 Mourinho
Manchester UnitedvChelsea May 10, 2005
Premier League 1-3 Mourinho
Manchester UnitedvChelsea November 6, 2005 Premier League 1-0 Ferguson
ChelseavManchester United April 29, 2006 Premier League 3-0 Mourinho
Manchester UnitedvChelsea November 26, 2006 Premier League 1-1 DRAW
ChelseavManchester United May 9, 2007 Premier League 0-0 DRAW
ChelseavManchester United May 19, 2007 FA Cup Final 1-0 Mourinho
IntervManchester United February 24, 2009 Champions League Round of 16: First Leg 0-0 DRAW
Manchester UnitedvInter March 11, 2009 Champions League Round of 16: Second Leg 2-0 Ferguson
Real MadridvManchester United February 14, 2013 ChampionsLeagueRound of 16: First Leg 1-1 DRAW
Total Played: 14 Mourinho: 6
Ferguson: 2
Draws: 6 Mourinho
Despite Ferguson's longer, more illustrious career, when the two greats go head to head Mourinho comes out on top winning 6 to Ferguson's 2. However, his victories came mostly with Chelsea during a period when the London club went on to win the
2005 and 2006 Premiership,  2005 and 2007 Carling Cup, and the FA cup in Mourinho's last year in 2007. Therefore it seems unsurprising that Mourinho edges Ferguson on head to head statistics when he managed a side at a time when they were dominating English football.
However, there seemed to be little dividing the sides when they clashed earlier this year in February for the first leg, with the Red Devils taking the lead. Yet Ronaldo did what comes so naturally to him and found the goal with a spectacular header shortly after to draw the two sides level. With both teams missing promising chances, the first leg ended with a tie with Mourinho's side to face Ferguson's in a tantalising draw tomorrow evening at Old Trafford.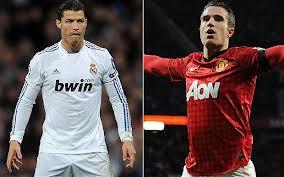 With many expecting Real Madrid to edge it, people should not count out the Scotsman's side. Although Real Madrid arguably have the better players and their side, alongside Barcelona, are widely regarded to be the best in the world, Fergie's team have the resilience and determination that has won them so many trophies before to edge out Mourinho's men. If we also consider that, potentially drawing to the end of his career, Ferguson is desperate to lay his hands on the coveted European trophy. Additionally, there is the possibility of Ferguson and his side replicating the astonishing success of the 1999 season, where the Red Devils famously secured the triple. With such success and the opportunity of perhaps attaining it once more, it is clear to see United have the bit between their teeth and are eager to knock the Catalan side out of the competition.
There is of course hope for the Red Devils, seeing that Real Madrid's current league form is not as impressive as United's, showing that they can and have been beaten. The white giants have already suffered five losses and four defeats in 26 games, whereas the English side have lost three and drawn just two. United are sitting pretty at the top of the English Premier League with a 15 point deficit between them and their city and title rivals Manchester City, whereas Real Madrid sit in third with a 13 point gap between them and league leaders Barcelona. The win ratio of United in the League is currently at 82% whereas Madrid's is just 65%, and even the red side's goal average is superior, with 2.86 goals per match to Madrid's 2.46. With the scoring power of Van Persie, Rooney and even Hernandez who has not had very many chances this season, United are definitely a threat. The English team has the highest goal tally this season in the Premier League demonstrating their fire power, but if we also consider they have come behind 11 times to win the game, we know they also have the gritty determination it takes to triumph over the most challenging of opponents. However League form means nothing in the Champions League, as the major competitions are known to produce many shocks and surprises.
The tie will guarantee entertainment but the result itself could be anything. Mourinho's side are coming off of the back of defeating the mighty Barcelona twice in less than a week, and will be feeling confident they can stretch their winning streak to triumph over United. However, with the glory of 1999 in their sights, United will not be easily overcome.