"Rapture of the Nerds," an article in this week's Time magazine by Jessica Roy, has me scratching my head. Or it would if I had a head. That is, if I were an uploaded consciousness in a machine. A transhuman. The idea that consciousness is transferable to hardware has been gaining momentum over the last several years during which humans have evolved into illogical machines. Roy's article about Terasem, which is being called a new religion, explores what the leaders of the movement teach about human consciousness. You write down your thoughts in most intimate detail, download, and viola, send them out to the cosmos. Your soul has been saved. If only we knew what a soul was. Transhumanism has been promising an attenuated kind of immortality for its adherents, but as I sit down to write out my thoughts, I'm aware that there's always a lot more going on in my brain than the simple ideas I can scrawl down before they evaporate. There's quick wisps of thoughts about my loved ones, my schedule (what do I have to do today?), what I ate for supper last night, how I feel—all of this while I'm putatively thinking about writing a blog post. Schizophrenia of the soul?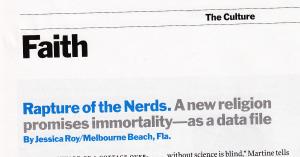 So much of thought is having a biological body. From early days I have been aware that this body will die. I was taught that the soul would live on, but this thing I call consciousness seems pretty closely tied with this thing I call life. And once the biological input ends, that part will be over. I think. In other words, my thoughts are tied to my biological existence. How can I even begin to write a minute fraction of them down accurately? I used to toy with an idea called meta-thinking. It was something I came up with as a plot element in a science fiction story. The idea was that those who can think two thoughts at once would eventually take over from those of us with lesser mentalities. Those who have two minds in one brain are, it seems, a step closer to the divine.
I use technology on a daily basis, but I am a disingenuous advocate. Some of the most transcendent moments I've experienced have been outdoors with technology left behind, under a sunny sky with an ocean breeze blowing in my face and those I love walking beside me. I think I've already broadcast that out into the universe by simply being a part of it. I don't need circuits and motherboards to make me more of what I am. Technology is the follower. It is consciousness that will always remain in the lead. And we still really don't even have an idea of what consciousness actually is. It's certainly not this computer that's sitting on my lap. And I do have to wonder, once my consciousness becomes a robot, what it will do with this strange, primate urge I have, when I'm puzzled, to scratch my head.