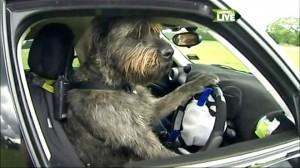 Who says you can't teach an old dog new tricks — a trainer in New Zealand is teaching man's best friend to drive — really!
The SPCA in Auckland thought it would be a good way to showcase how smart rescue dogs are and perhaps improve their adoption rate. So they called on animal trainer, Mark Vette, who was up for the challenge.
Out of a pool of seven dogs, Vette chose "Monty," "Ginny" and "Porter." Monty is an 18-month-old giant schnauzer whose owners turned him in when he became "too much for them to handle."
Ginny is a 1-year-old whippet mix rescued from abusive owners, and someone found 10-month-old Porter roaming the streets.
Vette explained their strategy.
"No animal has ever driven a car before so what we're going to do is we're going to do a straight and we're going to head off, so we'll start the car, get into position, brake on, gear in place, back onto the steering wheel, accelerator, take off and head along the straight and then stop," he said.
At first, they started with lots of indoor training with a fake car, using clicker-reinforced targets to teach the dogs how to shift gears, use a brake and steer.
"When we chain behaviors together, in this case we've got 10 behaviors we're all putting together, so each behavior is a trained behavior, and then you put them into a sequence. So it's a lot to do, and for the dog to actually start to get an idea of what actually is happening takes quite a long time," Vette said.
Five weeks later, Monty was ready to try the real thing — on a closed track, of course. Monty hopped right in behind the wheel, put the car into gear, on command, then waited for the trainer to order "A" for accelerator.
Then he was off! Monty was driving…some might say a little better than what we sometimes see on Tampa Bay roads!
Monty and the other "drivers" will show off their new skill on national television in New Zealand on December 10th. Vette says after that "test drive," his roving rescue rovers just might be in huge demand. Says Vette, "It will be Dial-a-Dog" the week after this!"
~ Courtesy of FOX News
Tags: dog driving video, driving dog