Players at a variety of levels are beginning to wind down their fall seasons and will soon begin to think about their off-season training.  Usually (at least for the older kids) there is a combination of strength training and running to get ready for the following season.  I've written a number of posts concerning Off-Season Training so if you are looking for details, go to the Categories drop-down section on the right side and click Off-Season to get to all the articles related to that.
Today's post is a reminder that just about all running within the game of baseball involves short bursts of speed.  Distance running never plays a role during a game.  Players have to take this into account as they plan for off-season running.  Distance running is great to build stamina, endurance, and overall health but if you want to be better on the field, you'll need to practice these short bursts of speed.  Below is a chart that will show scenarios during the game coupled with a running distance to train.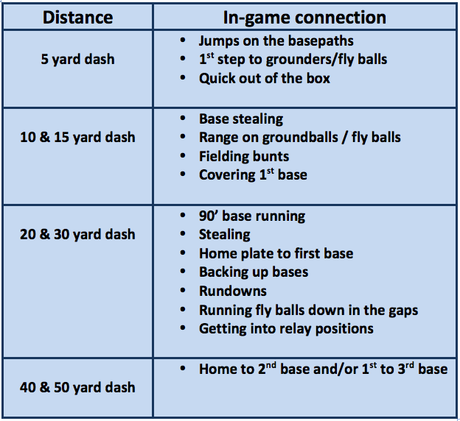 Off-season running programs should be a combination of distance running for overall health and short-burst training to improve more practical areas of the game.
Tomorrow's post: Coaching the modern player